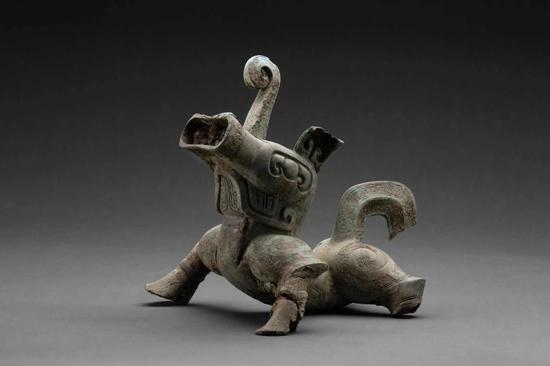 The bronze beast showed in Yibin Museum in southwest China's Sichuan, May 18, 2022. (Photo provided by Yibin Musuem)
(ECNS) -- A small bronze beast unearthed in 2021 from the No.3 pit of Sanxingdui Ruins in Guanghan, southwest China's Sichuan Province, debuted at an exhibition held at the local Yibin Museum on Wednesday.
With a length of 28.5 centimeters, it is 26.4 centimeters tall and 23 centimeters wide.
The bronze beast, with Yun-lei (cloud and thunder) veins on its body, stands up tall, looking vivid and cute.
A batch of bronze beasts of the same type has been unearthed from Sanxingdui Ruins, with more expected as evacuations continue.
The bronze beast is one of four cultural relics newly evacuated from Sanxingdui Ruins in 2021 and has met the public for the first time.
Together with the cute bronze beast, more than 130 pieces (sets) of fine cultural relics from nearly 20 cultural institutions from Sichuan and Chongqing have been put on display, most of which are bronze, stone, gold, and jade ware.