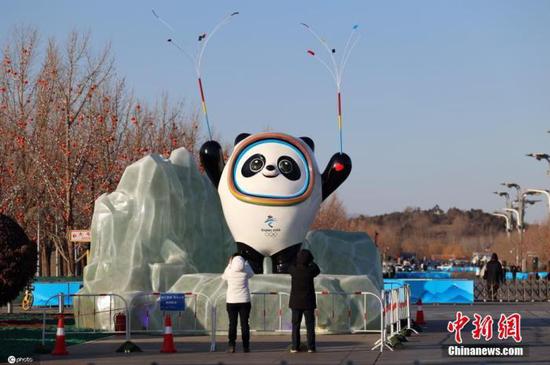 An Olympics mascot statute in the Olympic Green park in Beijing. (Photo/IC)
Special: 2022 Winter Olympics
(ECNS) -- The opening ceremony of the Beijing 2022 Winter Olympics will last no longer than 100 minutes and focus on three major themes, according to the spokesperson of the Beijing Organizing Committee for the 2022 Olympic and Paralympic Winter Games (BOCOG) on Tuesday.
The three themes are China's aspiration for world peace, the Olympic principles as well as good expectations towards the Beijing Winter Games, said Zhao Weidong at an online press conference.
An around 3,000-people performance lineup was also unveiled during the conference.
The spokesman added the three-day torch relay of the Winter Olympics will be organized from Feb. 2 this year. A total of 1,200 torch bearers will participate in the relay process.
The ice-snow culture, historic culture along with iconic Great Wall city impressions of Beijing will be presented during the torch relay.
"Beijing will present good opening and closing ceremonies of the Games to the world," Zhao said, adding that the 2022 Winter Games would be a green event featuring scientific and innovative elements in promoting sportsmanship.