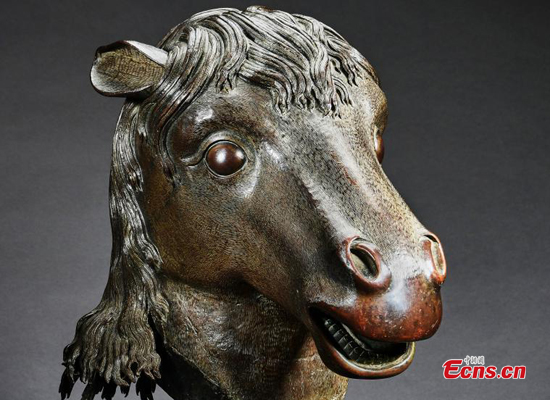 A red bronze horse-head statue is handed over to the National Cultural Heritage Administration in Beijing on Nov. 13, 2019. (Photo provided to China News Service)
Special: 70th birthday of PRChina
(ECNS) - A rare bronze horse head plundered from Beijing's Old Summer Palace was officially handed over to the State Administration of Cultural Heritage at a ceremony held at the National Museum of China in Beijing on Wednesday.
Liu Yuzhu, director of the State Administration of Cultural Heritage, granted a certificate of honor to Pansy Catalina Ho Chiu-king, who was present at the ceremony on behalf of her father Stanley Ho.
Ho purchased the national treasure at a Sotheby's auction in 2007. On display in Hong Kong and Macao before the handover, the sculpture is one of 12 bronze heads depicting zodiac animals that graced a water clock fountain in Yuanmingyuan, also known as the Old Summer Palace, which was destroyed by British and French troops in 1860.
Liu added patriotic compatriots from Hong Kong and Macao have played important roles in helping return Chinese relics looted and illegally shipped out of China, with Ho certainly one of the most outstanding among them.
Pansy Catalina Ho said her family is glad to make this donation as this year marks the 70th anniversary of the founding of the People's Republic of China and also the 20th anniversary of Macao's return to the homeland.
Ho also purchased a priceless pig head sculpture in 2003 and donated it to the country.
The horse head sculpture will join another six zodiac bronzes in an exhibition to showcase the progress of China's efforts to retrieve lost relics over the past seven decades. Unfortunately, the whereabouts of the other five bronze heads remains unknown.