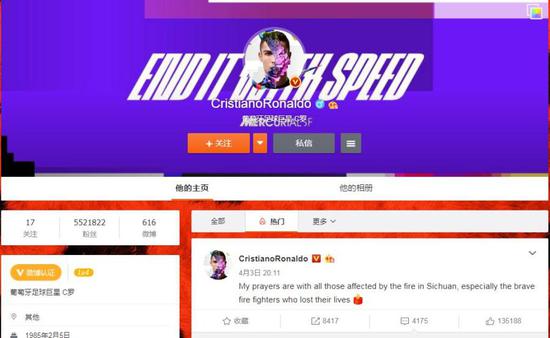 Portuguese soccer superstar Cristiano Ronaldo expresses his condolence to victims of forest fire in Sichuan Province that killed 30 people. (Photo/Screenshot on Weibo)
(ECNS) -- Portuguese soccer star Cristiano Ronaldo expressed his condolences to victims of the forest fire in southwestern China's Sichuan Province that killed 27 firefighters and three locals.
On China's popular social media platform Sina Weibo, Ronaldo wrote in English that "My prayers are with all those affected by the fire in Sichuan, especially the brave fire fighters who lost their lives." He ended the message with an emoji of a candle.
Jiang Feifei, one of the firefighters who lost his life, was a loyal fan of the soccer star. On his social media app WeChat, Jiang used an image of Ronaldo's stunning bicycle kick goal as his profile photo.
The 30 victims have been recognized as martyrs in China.
Ronaldo's message has won likes on Sina Weibo from his numerous Chinese fans.