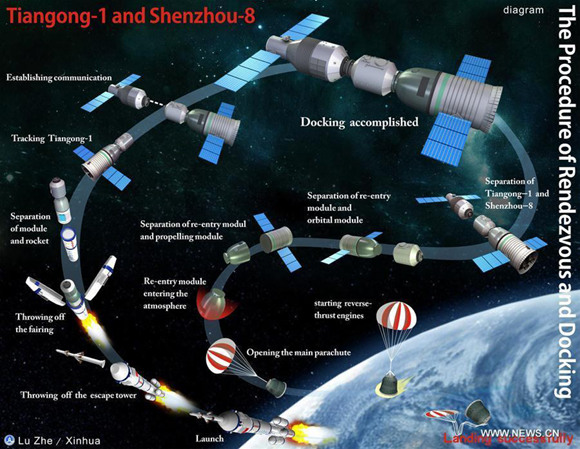 The graphic shows the procedure of rendezvous and docking of Shenzhou-8 spacecraft and Tiangong-1 space lab module. (Xinhua/Lu Zhe)
(ECNS) -- China's Tiangong-1 space station has crashed into the South Pacific after re-entering Earth's atmosphere, producing approximately 1.5 tons of debris.
The experimental space lab, launched on Sept. 29, 2011, re-entered the Earth's atmosphere at around 8:15 a.m. on Monday, the China Manned Space Engineering Office said.
Tiangong-1 landed in an area known as a "spacecraft cemetery," a popular spot for spacecraft re-entry located more than 2,000 kilometers from the nearest land in all directions.
Xing Qiang, a member of the American Institute of Aeronautics and Astronautics, said there are no human activities in that area of the South Pacific, and also little chance of ecological damage.
The majority of the 8.5-ton spacecraft burned up on re-entry, with about ten percent likely to remain. Chinese experts called the re-entry a perfect conclusion to the space station's life cycle.
Tiangong-1 ended service in March 2016 after completing its mission. It had docked with the Shenzhou-8, Shenzhou-9 and Shenzhou-10 spacecrafts, and undertaken a series of tasks, making important contributions to China's manned space cause.