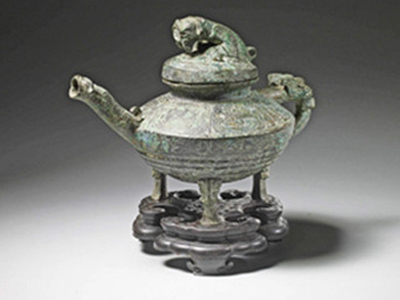 A bronze water vessel, known as Tiger Ying, is up for auction in Kent. (Photo/For China Daily)
(ECNS) -- A bronze water vessel put up for auction in the UK next month may not be a treasure looted from Beijing's Summer Palace in 1860, reported Shanghai-based The Paper, citing relic experts.
The vessel that dates back to the Western Zhou dynasty (1027 BC-771 BC) will go on sale at The Canterbury Auction Galleries on April 11 with an estimate of 120,000 to 200,000 pounds ($170,000 - $285,000).
Zhou Ya, an expert in bronze ware research, said that there is no strong evidence that Tiger Ying was a relic from the Summer Palace. Only depending on the previous owner's letters and old photographs cannot support the statement.
In his letters Royal Marines Captain Harry Lewis Evans did not name clearly any bronze looted by him from the palace as "Tiger Ying" and there is also a possibility that Tiger Ying came into the collection of Evans afterward, Zhou added.
Zhou also questioned the media report stating only seven similar archaic vessels are said to exist. "It's more than seven as far as I know," he noted.
The Summer Palace was looted and destroyed by British and French troops during the Second Opium War (1856-1860).
Also discovered in Kent, southeast England, along with the bronze vessel, was an archive of photographs and notes relating to the Second Opium War, written by Captain Evans, the previous owner of Tiger Ying. In a letter to his mother, dated Oct 17, 1860, he detailed the looting of the Summer Palace by British and French troops, including "several bronzes" he got.
Liu Yang, an academic committee member of the Beijing Summer Palace Society, said he is also doubtful about the relic although it's from the Summer Palace.
The Paper report said the auction house may try to take advantage of Chinese people's historic and patriotic sentiments to do commercial speculation on the piece.
China's State Administration of Cultural Heritage said in a statement that it opposes the sale and purchase of illegal cultural relics, adding that it also opposes the commercial speculation on such relics.