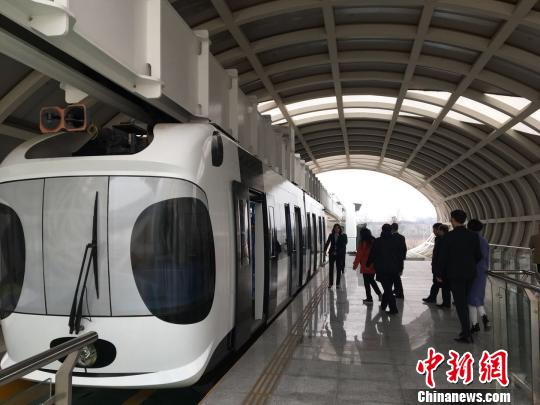 A Cambodian delegation visits the workshop of Zhongtang Sky Train Group in Chengdu, Sichuan Province, Jan. 15, 2018. (Photo: China News Service/Zhong Xin)
(ECNS) -- The Chinese company behind the panda-shaped "sky train" said it hopes to introduce the project into Cambodia.
Zhongtang Sky Train Group, a company based in Chengdu City of Sichuan Province and specializing in suspension railway technologies, welcomed a delegation from the Cambodian government on Monday.
Members of the delegation were provided with details of the suspension "sky train" technology and also took a ride in the company's compound in Chengdu.
Representatives of the company visited Cambodia last year and this reciprocal visit from the Cambodian side will push forward substantial progress, sources said.
According to the plan, the "sky train" will run on a 10-kilometer-long road connecting a central railway station and an airport in Cambodia. Other projects, including Phnom Penh's international convention and exhibition center, five-star hotels and shopping malls, will also be built along the line.
The train features black-and-white carriages and was put into trial operation in Chengdu in November 2016. It hung from a white rail above ground and was tested along a 1.4-kilometer route.
The train is powered by lithium batteries rather than high-voltage electricity, which will avoid exhaust emission and reduce building costs, according to the company.