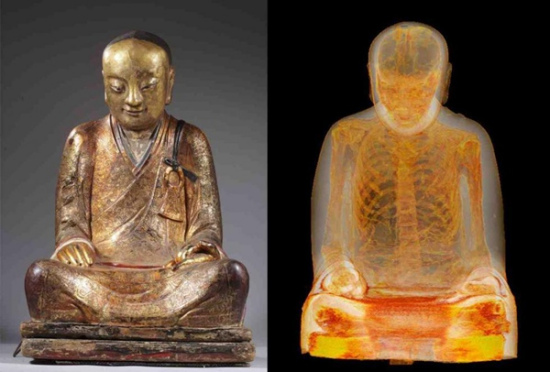 A CT scan shows a body, whose internal organs were removed, concealed in an ancient Chinese statue of a Buddha. (Photos provided by the Drents Museum)
(ECNS) -- Cultural relic authorities in East China's Fujian Province have vowed to offer support to villagers after a court in Amsterdam, the Netherlands, dismissed a lawsuit against Dutch collector Oscar van Overeem over a stolen Buddha statue.
Villagers of Yangchun in Datian County demanded the Dutch collector return the statue, which contains the mummified body of Zhang Gong, a local man who became a monk in his twenties and won fame for helping people treat disease and spreading Buddhist beliefs.
When he died at the age of 37, his body was mummified and placed inside the statue during China's Song Dynasty (960-1279). Ancestors of Lin Mingzhao's family have worshipped the statue in the village temple of Pu Zhao Tang for more than 1,000 years until it was found stolen on Dec. 15, 1995.
The Dutch court determined that the committee of the Chinese village, which brought the case, was not a natural person or legal person as required by the country's law and therefore had no standing to sue.
After hearing the ruling, Lin Mingzhao of the village shared a crying emoji on social networking app WeChat. He also told a reporter: "I'm just a villager and I feel sad. I don't know what to do next."
Liu Yang, the lawyer who represented the villagers, said the ruling came as a big surprise because court had been in session several times and the issue of the plaintiff's qualifications had only been raised at the conclusion of the case.
Fu Qisheng, the director of the Cultural Relics Bureau of Fujian Province, said it was better for the relic to be returned to the original place it had been kept.
Authorities will provide technical and legal support to villagers dedicated to preserving cultural relics, he said.