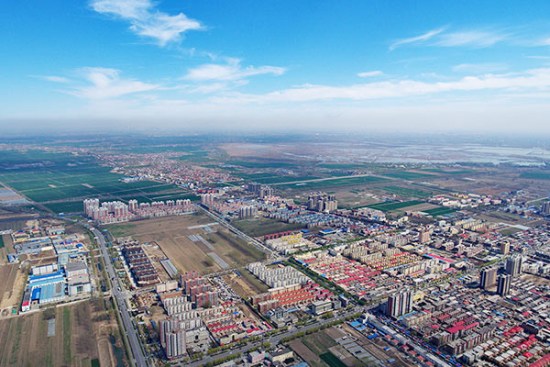 Aerial photo taken on April 1, 2017 shows Anxin county, North China's Hebei province.(Photo/Xinhua)
(ECNS) -- Over 100 enterprises have received administrative penalties for environmental violations in Xiongan New Area, a landmark new economic zone about 100 kilometers south of Beijing, with 3,909 enterprises closed for polluting, according to Chinese media reports.
The government crackdown started on April 1, with 7,248 enterprises investigated for pollution by July 8. Eighty-four people face administrative sanctions and eight are in criminal detention.
Three counties in the new area, Xiongxian, Anxin and Rongcheng, announced they would address environmental problems around Baiyangdian Lake through joint efforts at all levels including villages, towns and counties.
The public security department in Rongxian county also started to fight illegal activities that cause environment pollution, which will continue until Sept. 30. Discharges from garment factories, waste water from dyeing operations and paper mills will face strict checks. The government also focused on livestock and poultry breeding areas.
A statement released by Anxin county requires all illegal gas stations to close by Aug 10. The local government has also started an effort to clear water areas and shipping lanes.
A circular issued by the Communist Party of China (CPC) Central Committee and the State Council described the move to build Xiongan New Area as a "major historic and strategic choice" that would be "crucial for the millennium to come."
The decision to establish the new area is part of a greater strategy, which China initiated in 2014, to jointly develop Beijing, the port city of Tianjin and Hebei to improve the region's economic structure, environment and public services, and bridge the gap between the capital and industrial and rural areas surrounding it.