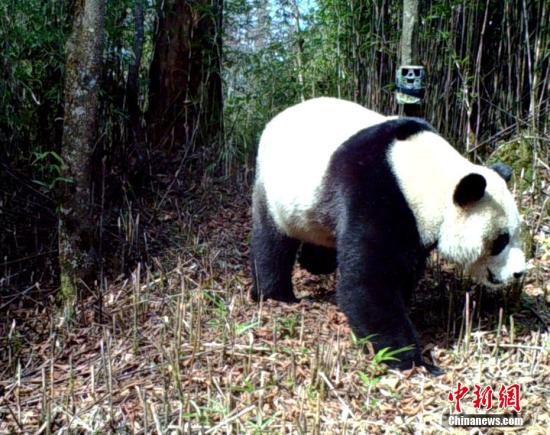 An image captured by an infrared camera shows a wild panda in a forest. (File photo: China News Service/Zhong Xin)
(ECNS) -- Chinese and U.S. researchers have jointly identified a new parasite species in giant pandas, naming it Ancylostomaailuropodaen.sp and boosting the number of species of its kind to 15.
Researchers at the Sichuan Agricultural University carried out the study in collaboration with the U.S. Department of Agriculture and the University of Maryland. The finding was published in the international journal Parasites & Vectors.
According to Professor Yang Guangyou, a correspondent author of the article, in as early as the 1990s he and his colleagues found a wild giant panda suffering infections caused by a seemingly new parasite, but lacked enough samples to support the presumption at the time.
In the following decade, researchers at the Sichuan university continued research in this regard.
In November 2013, they discovered a dead wild female giant panda at the Fengtongzhai National Nature Reserve and gathered 17 samples of the parasite, including seven males and 10 females. A series of scientific studies proved it to be a new species, which was later included in ZooBank, a shared database for global biological species.
The parasite lives in the giant panda's small intestine and sucks blood. It may cause emaciation, anemia, and retarded growth, posing a serious threat to the panda's health.
"After identifying the worm, we'll pay special attention to it when it comes to rescue and protection of giant pandas and administer relevant drugs," said Yang. The finding will be of significant importance to the protection of giant pandas, he added.