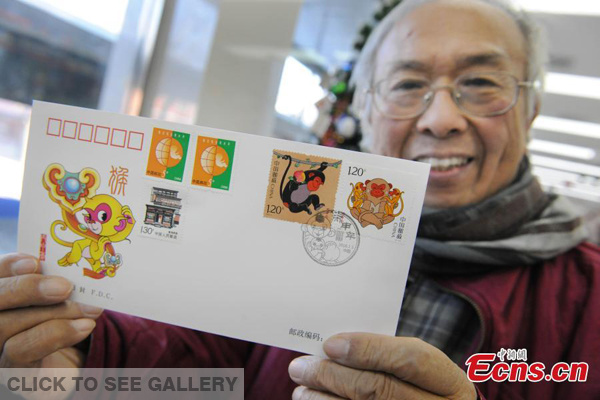 A customer shows a stamp marking the Year of the Monkey they bought at a post office in Beijing, Jan. 5, 2016. (Photo: China News Service/Li Bojing)
(ECNS) -- China's newly released Year of the Monkey stamps were designed to reflect the recent end of its one-child policy, Beijing-based newspaper The Mirror reports.
The stamps come in two types to mark 2016, the Year of the Monkey on China's lunar calendar, with each having a face value of 1.20 yuan (18 U.S. cents).
They were designed by Huang Yongyu, one of the most celebrated cultural icons in contemporary China. They are the fourth round of zodiac animal-themed stamps to be released in 36 years.
The original design was a mother monkey holding her baby to emphasize the concept of home, as required by the China postal service.
But Huang suggested having two baby monkeys since the country adopted a two-child policy. The final design is a monkey with two infants to signify a happy family.