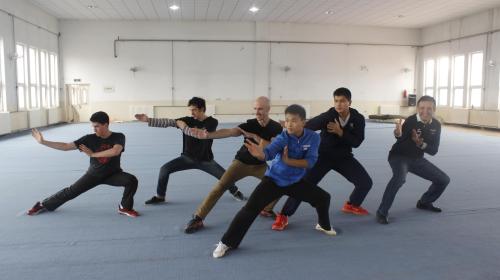 International students at Nankai University practice wushu. (File photo)
(ECNS) - They come from different parts of the world, but here in China, they have the same passion: the martial art of Wushu.
Love by accident
Zhou Aile, 27, is an international student from Gabon studying at the University of Science and Technology Beijing. In 2008, she came to China at the age of 20 on a scholarship, along with her younger brother.
She says she stayed here because she loves China and Chinese culture, especially Wushu. Aile began her martial art journey by accident, when she saw a handsome green-eyed foreigner practicing the discipline on campus and struck up a conversation with him. He has graduated and left China, but Aile's love of Wushu remains.
As the only international student in her major, Wushu adds color to Aile's life. When she first saw a chef in the campus canteen making noodles by stretching dough and pulling noodles to make them thinner, she asked him whether he could do kung fu. After that encounter, the chef began to show her his unique skill whenever he saw her, which Aile regarded as "Chinese hospitality."
But Aile complains that few Chinese students practice Wushu. Once she badgered her roommate, saying "Wushu is your culture. Now, foreigners have learned Wushu and you have not - are you willing to see foreigners teach it to your children in the future?"
Aile entered a Wushu competition for international students this year and found many foreigners who shared her interest. She won second place in Women's Tai Chi.
American girl
Unlike Aile, Ouyang Zhaoxia, an American girl living in China, is a veteran of Wushu contests, capable of using cudgels, knives and swords. She has already participated in two traditional regimen competitions, two Wushu competitions for Beijing university students, and one competition for international students.
The 22-year-old has been living in China for 18 years and describes herself as a Hangzhou native, as she spent her childhood there with her family. She loves two-character surnames and chose Ouyang to be her Chinese name.
Ouyang's impression of Wushu mainly came from a childhood friend who studied acrobatics and popular kung fu novels. But the real inspiration came from her older brother, who was also her classmate at Beijing Language and Culture University. Both the brother and sister became members of the university's Wushu team.
Wushu has also played matchmaker for Ouyang. Her boyfriend sought her out after seeing her queue in the canteen while carrying her "weapons" - a knife and cudgel.
A lifetime career
German student Phili graduated from the Capital Institution of Physical Education this July and has returned to Germany. But he's already made up his mind to return to Beijing, despite his opinion that the city has "too many people and too much bad air." He chose China because of his dream of becoming a Wushu master.
Over 10 years ago, a Chinese from Shaolin Temple opened a Wushu club in Germany, where Phili and his brother became students. Phili immediately fell in love with the martial art and became determined to come to China for further study.
Phili has won two third-place awards at China's university student Wushu tournaments, and has also performed in a talent show in Austria this year, on his way home to Germany.
He has however found locating a Wushu-related job in Germany very hard.
"Learning Wushu is much more than mastering the movements, especially for foreigners: you have to understand Chinese culture to get the essence," said Phili.
Aile echoes his sentiment, saying that although Gabon has many Wushu clubs, "Without a Chinese teacher and Chinese traditional philosophy, the real Wushu cannot be widely promoted."
Ouyang shared similar feelings, noting that she used to perform Wushu for her friends in America. "Even the simplest movements would wow them," she says, but soon her sense of achievement faded away.
Unfortunately few international students can endure the hard work and patience to really learn Wushu well, but their solitary accomplishments still make them feel connected to Chinese culture.