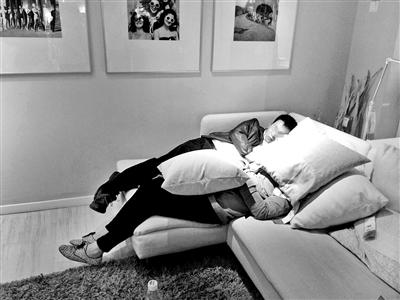 A man takes a nap on the sofa in an Ikea store. (Photo/Beijing Youth Daily)
(ECNS) - Ikea has introduced new rules that forbid store visitors from sleeping on showroom sofas and beds, but the rule is proving hard to enforce, the Beijing Youth Daily reported Monday.
The world's largest furniture retailer introduced the rule because many customers, both adults and children, have been sleeping in stores, creating a scene and affecting the experience of other customers.
A middle-aged woman said Ikea beds are comfortable so her friends "take a nap" there sometimes, according to the newspaper.
Pictures also show young couples lying on the sofas, their faces covered by pillows.
The newspaper said some customers take off their shoes and lie on the beds as if they were in their own homes.
Ikea encourages customers to sit or lie on beds for a short while to experience their quality, but many sleeping customers occupy the display pieces for too long, a staff member says.
The air-conditioned megastore in Beijing is known for attracting customers in summer who are looking to escape the heat.
Workers in Ikea said it is hard to enforce the no-sleeping rule as many of the perpetrators are often elderly or young children, and some customers simply ignore their requests.