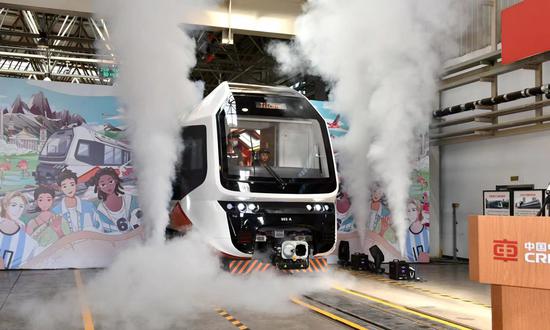 A new-energy light rail train made by CRRC Tangshan rolls off the production line in Tangshan, North China's Hebei Province, on June 6, 2023. (Photo/Courtesy of CRRC Tangshan)
China's first new-energy light rail train intended for export rolled off the production line of CRRC Tangshan in North China's Hebei Province on Tuesday. It will go into service in Jujuy Province, Argentina.
The train is fully battery-driven, with two lithium iron phosphate power batteries with a capacity of 352 kilowatt hours installed on top of the carriages, which has advantages including higher safety, higher energy density and a longer life cycle.
The train can be modularized to expand to a variety of power modes with a maximum operating speed of 60 kilometers per hour, the company told the Global Times on Tuesday, noting that the model can be widely adapted in different sectors such as tourism.
The train is equipped with driving cabs at both ends and operates in both directions. It can be flexibly grouped with multiple units or run with different numbers of carriages. It can carry 72 to 388 people.
The train is fitted with intelligent functions, such as facial recognition for unlocking, remotely adjusting air conditioning temperatures and an intelligent interaction terminal system, while the passengers can check routes, timetables and other necessary information in the terminal system, the company said.
CRRC signed the contract with Jujuy, Argentina in May 2022, which marked the first time that a Chinese light rail train has entered the market in Argentina, CRRC said in a statement on its website.
The train has two carriages, and the lithium batteries will utilize the rich solar resources of Jujuy to bring a green and comfortable traveling experience for passengers, read the statement.
On Friday, China and Argentina signed a cooperation plan in Beijing to jointly promote the construction of the China-proposed Belt and Road Initiative, as the two sides will deepen cooperation in core sectors such as infrastructure, energy, economy and trade, finance, and people-to-people and cultural exchanges.