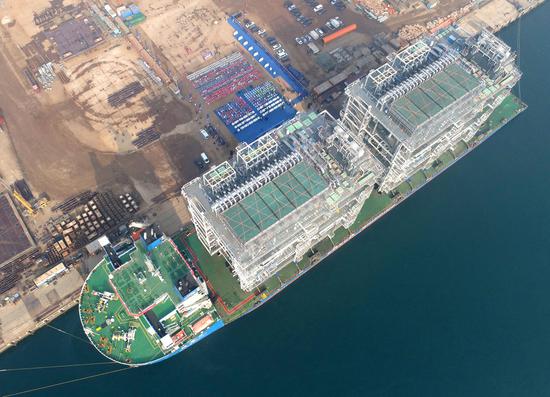 The last two modules for core processes for a Canadian liquefied natural gas project are delivered in Qingdao, east China's Shandong Province, March 7, 2023. (Photo provided to China News Service)
China National Offshore Oil Cooperation (CNOOC) announced on Wednesday that the last two component modules among a total of 35 contracted modules for Canada LNG (liquified natural gas) project were delivered in Qingdao, East China's Shandong Province.
According to a press release sent from the Offshore Oil Engineering Co (COOEC), the builder of project modules under CNOOC, the delivery marked another achievement for China's LNG equipment construction.
The construction of the overall 35 component modules includes 19 core modules, which were combined with over 770,000 parts. The 35 modules weigh about 179,000 tons, reaching the total weight of the steel structure of three Burj Khalifa Towers, said the press release.
The Canada LNG project is an international project led by Dutch energy company Shell and other four energy companies. The first phase of the project was scheduled to build two production lines with annual LNG output of 14 million tons, and will provide high-quality clean energy to Asia.
The total contracted value of the 35 modules reached about 5 billion yuan ($716.88 million), and the total contracted construction period was 33.5 months. The first core module was delivered in December 2021, and was shipped from Qingdao to the loading site in the port of Kitimat, British Columbia, Canada, Science and Technology Daily reported.