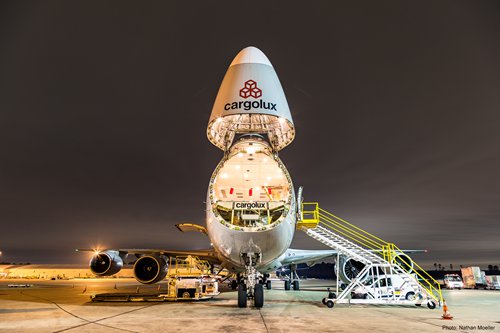 A Cargolux Airlines plane gets loaded with cargo in Houston in the U.S. (File Photo/Courtesy of Cargolux)
Escalation could bite promising business: airline executives
Even as they see great prospects for expansion in the air cargo business in China, global carriers are finding themselves in the crosshairs of a deepening trade conflict between China and the U.S., and further escalation could hurt growth prospects.
While the trade tensions have not affected air freight between China and Europe, potential risks exist for flights the company runs between China and the U.S., Richard Forson, president and CEO of Cargolux Airlines International SA, told the Global Times on Wednesday.
Forson said if the trade dispute escalates and involves more products traded between the two countries, especially electronic products made in China, then it might exert a spillover effect on the air freight sector.
Alexis von Hoensbroech, chief commercial officer at Lufthansa Cargo AG, also warned of potential risks from China-U.S. trade tensions, while stressing that negative impact has not emerged yet.
"We don't know to what extent this conflict will escalate. I assume that there will be a certain level of escalation and we might also see effects [of the escalation] on air freight," he told the Global Times on Thursday, adding that he hopes the disputes can be resolved before the situation deteriorates too much.
Lufthansa Cargo does not run any direct flights from China to the U.S., but goods are transported to the U.S. from China on Lufthansa Cargo via a stop in Frankfurt.
If trade tensions worsen between the world's two largest economies, the whole air freight industry, not just any single company, would be hurt, according to Forson.
Due to a restocking season and softening global trade, the global air freight sector experienced the slowest pace of growth in 22 months in March, when demand rose only 1.7 percent year-on-year, according to data from the International Air Transportation Association (IATA) on May 2.
Things could get worse because of rising trade disputes, Alexandre de Juniac, IATA's director-general and CEO, was quoted as saying in a press release.
"The biggest damage could be political. The implementation of protectionist measures would be an own-goal for all involved, especially the U.S. and China," he said.
But in China, boosted by a booming e-commerce sector, demand for air freight has boosted business for foreign carriers.
According to statistics provided by Lufthansa Cargo to the Global Times, the company's revenues in China rose 17 percent to 18 percent on a yearly basis in 2017.
Cargolux's net income in China was up 16 percent on a yearly basis in 2017, according to data Cargolux sent to the Global Times on Wednesday.
Despite the potential risks, both airlines are increasing their bets on the Chinese market as demand rises.
For example, Lufthansa Cargo on May 6 launched two new cargo services linking Chengdu, capital of Southwest China's Sichuan Province and Frankfurt, Germany.
Forson said Cargolux continues to explore the potential of the hub it has established in Zhengzhou, capital of Central China's Henan Province, while increasing the company's competitiveness in other cities.
Cargolux operates 19 to 25 weekly flights to four cities in the Chinese mainland: Shanghai, Beijing, Xiamen in East China's Fujian Province and Zhengzhou.