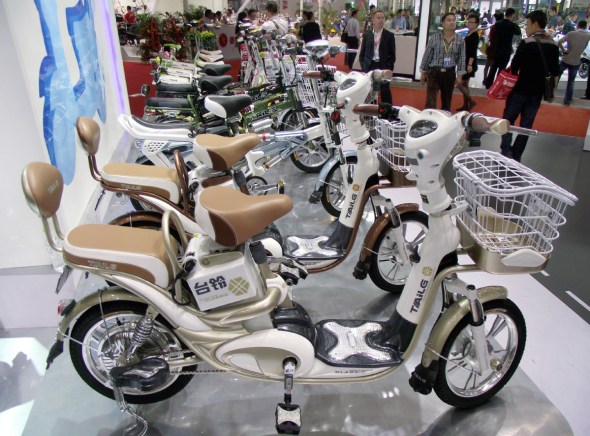 Electric bikes of TAILG Electric Vehicle Co Ltd are displayed at a new energy expo held in Nanjing, Jiangsu province. (Photo for China Daily/Zhen Huai)
The anti-dumping investigation launched by the European Union on Chinese electric bikes will not impact the global strategy of TAILG Electric Vehicle Co Ltd, which is confident of becoming a leading brand in Europe, its CEO said during the four-day 28th China International Bicycle Fair held recently in Shanghai.
"Our globalization won't be suspended because of the ongoing anti-dumping investigation launched by the EU. In fact, as a global company, we have already established our European headquarters in The Netherlands," said Yao Li, CEO of Shenzhen-based electric vehicle company TAILG.
An investigation into the alleged dumping of Chinese e-bikes has been launched by the European Commission, according to a notice published in the Official Journal of the European Union in October, 2017.
According to Yao, TAILG has started the operation of its European company, and once the manufacturing site is picked, production and assembling will soon follow.
"It will be very difficult for Chinese enterprises and Chinese brands to ... break into (the) European market, but we are resolved to become a leading brand there," he said.
Because Europe is committed to cutting energy use and pollution, eco-friendly vehicles will have great potential for growth. In fact, the European electric bike market has doubled its growth in each of the past several years.
"European nations are actively slashing energy consumption and emissions in accordance with the Paris agreement and the Energy Roadmap 2050, and this move presents Chinese enterprises huge opportunities for promoting electric bikes and new energy transportation in Europe," Yao said.
In addition, the e-mobility partnership agreement signed between TAILG and the UN Environment aimed at introducing electric vehicles in Africa and other areas of the world in March makes the company more confident in promoting globalization.
The agreement looks to help governments in Africa and other areas of the world start phasing out older vehicles, thus curbing air pollution.
Electric bikes "originated in China, and over the years, the nation has been taking a lead in the sector by holding the lion share of the global market. Nothing could stop us going to Europe," Yao said.
As of the end of last year, China had become the world's largest producer and consumer of electric bikes, according to Ma Zhongchao, director of the China Electric Vehicle Association. There are 250 million electric bikes in operation across the nation at the moment. Meanwhile, the nation's more than 700 manufacturers produce more than 33 million units per year, worth a total 135 billion yuan.
Overseas markets contributed about 12.5 percent to TAILG's total sales in 2017, and the company is geared up to raise the ratio to 20 percent by 2019, Sun Muchu, vice-president of TAILG, told China Daily earlier.
To date, TAILG's electric bikes and scooters are exported and traded in 66 nations worldwide, and the company saw its overseas business double in each of the past two years.
Chinese e-bike producers said that unlike other trade complaints, there is no overcapacity in China's e-bike industry. Export volumes are customized and based on the EU demand, while more than 95 percent of China's e-bikes are sold to the domestic market, the Xinhua News Agency reported.