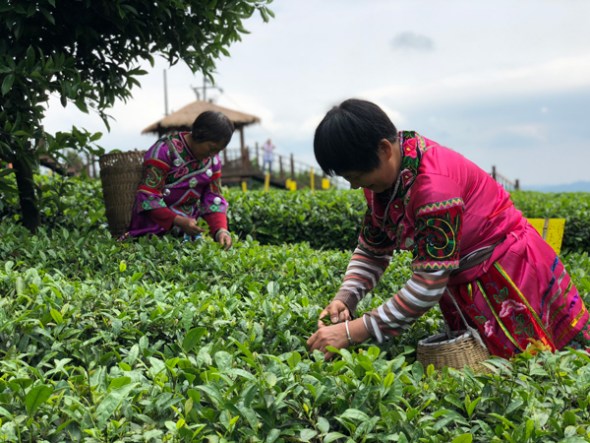 Farmers pick tea leaves at a plantation in Zunyi, Guizhou province, on May 6. (Photo by Yang Jun/China Daily)
Lipton plans to sell tea bags containing black and green tea produced in Zunyi, Guizhou province, nationwide and later worldwide, marking the first time it has used purely Zunyi-produced tea.
Lipton, a tea brand under consumer goods giant Unilever PLC, launched the new product in Guiyang, capital of the province, this week, and the company plans to start selling it in July.
Guizhou is expected to provide 50 metric tons of raw tea annually to Lipton, and the tea bags will be made in Lipton's manufacturing base in Huangshan, Anhui province, the company said.
With its subtropical climate and clean air, Guizhou is ideal for growing high-quality tea. The new product is based on Asian preferences.
"Some time is needed to examine the product if it is to be sold abroad. But the tea produced in Guizhou has a safety guarantee, and it is easier to meet standards," said Zeng Xiwen, vice-president of Unilever North Asia.
In 2016, Unilever launched a sustainable tea planting poverty alleviation project in Zunyi, and the company found that the tea produced locally was of sufficient quality to enter higher-end markets. It then introduced the Zunyi-produced tea into its global procurement system.
"The project will help to raise the quality and reputation of locally planted tea, upgrade related sectors and fuel the transformation of economic benefits to social benefits," Zeng said.
Last year, 335 hectares of tea plantations in Zunyi were certified by Rainforest Alliance, a New York-based NGO that aims to protect biodiversity and achieve sustainable development by changing earth utilization models and consumer behavior.
By 2020, the certification of 6,700 hectares of tea plantations in Zunyi is expected to be completed. This process has helped to lay the foundation for the internationalization of Guizhou tea.
Meanwhile, Unilever will donate 1 yuan (16 cents) to the China Youth Development Foundation for each box of Zunyi-made tea it sells, and the funds will be used for local charity programs. In addition, the company will provide free training and management for some impoverished tea farmers and give them work.