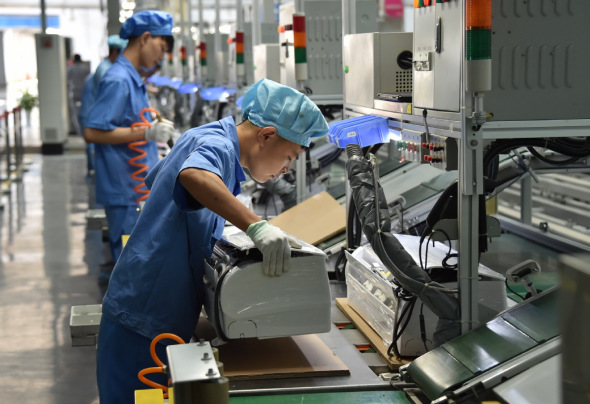 The production line of Chinese home appliance maker Haier in Qingdao, Shandong province. The company has developed an industrial internet platform, which can help SMEs customize products in factories. (Photo/Xinhua)
China will step up the push to fuel the digital transformation of small and medium-sized enterprises by helping them embrace cloud computing, big data and other cutting-edge technologies, a senior official from the nation's top industrial regulator said on Thursday.
Such a move is part of China's broader effort to build world-class industrial internet platforms by 2035, which can allow companies to customize products at speed and scale, and help them boost productivity and cut costs.
Wang Jiangping, vice-minister of industry and information technology, said accelerating the informatization of SMEs in China is an effective way to improve their competence and facilitate their financing efforts amid fierce competition.
"About 16,000 startups register in China every day. More efforts will be made to encourage such SMEs to embrace new technologies, in order to upgrade their corporate structure and production lines," Wang said.
According to the ministry, technology and telecom giants in China have been active in speeding up the digital transformation of SMEs by laying out an affordable network infrastructure and offering quality cloud services.
In 2017, 16 major Chinese companies, including telecom carriers and information service providers, invested 18 billion yuan ($2.8 billion) to help SMEs across China deploy new technologies. They set up almost 5,000 agencies and employed 140,000 workers to assist SMEs in their informatization.
Last year, local governments also allocated a combined 300 million yuan to fuel the process.
Fang Li, deputy general manager of the government and enterprise client branch of China Mobile, the nation's largest telecom carrier, said the company aims to attract 100,000 SMEs to move their businesses to cloud in 2018.
"After doing a good job by partnering with Zhejiang provincial government, we will replicate such a cooperation model in other provinces such as Jiangsu, Hebei, and Shandong to help more SMEs embrace new technologies," Fang said.
Encouraging SMEs to use cloud services is part of China's effort to build globally competitive industrial internet platforms. Last year, the State Council unveiled a guideline that aims to build three to five industrial internet platforms, which will reach international standards by 2025 and lead the world in key areas by 2035.