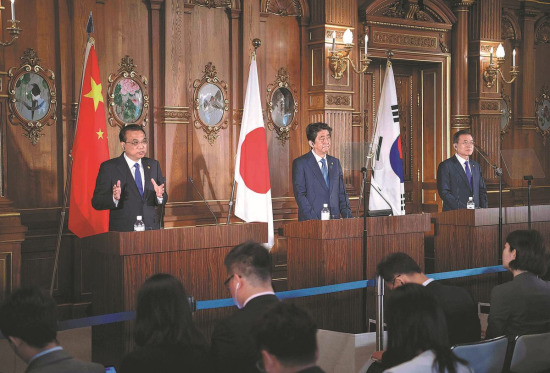 Premier Li Keqiang, Japanese Prime Minister Shinzo Abe (center) and South Korean President Moon Jae-in take questions from journalists after the seventh leaders' meeting in Tokyo on Wednesday. (LI TAO/XINHUA)
Premier says Beijing, Tokyo and Seoul need to stand behind multilateral system
China, Japan and the Republic of Korea should accelerate negotiations to establish a free trade area and reach agreements on the Regional Comprehensive Economic Partnership as soon as possible to achieve regional integration, Premier Li Keqiang said on Wednesday.
At the seventh China-Japan-ROK leaders' meeting in Tokyo, the premier said development of the three countries has benefited from free trade, and they should firmly stand together to safeguard the rule-based multilateral trading system and fight against protectionism and unilateralism.
The regional partnership is a proposed free trade agreement between the 10 members of the Association of Southeast Asian Nations and six other countries, including China, Japan and the ROK.
Li called on these neighbors to manage their differences using their wisdom and achieve a higher level of cooperation. He said the countries should strengthen cooperation in six key areas: trade liberalization, production capacity and investment, infrastructure and connectivity, finance, sustainable development and people-to-people exchanges.
Li said the three countries should work to explore fourthparty markets using the model of "China-Japan-ROK plus X" to quicken regional development. There are disparities in the development levels of Asian countries, so China, Japan and the ROK should combine their advantages in equipment, capital and technologies for joint projects in production capacity, poverty alleviation, disaster management and environmental protection, he said.
Japanese Prime Minister Shinzo Abe said the three countries support free trade and open markets as major traders and should propose trading rules with high standards. They should also boost personnel exchanges and enhance cooperation in education and tourism for a more open and inclusive development, he said.
Li also called for continued dialogue and negotiations to achieve denuclearization and peace in the Korean Peninsula, saying China supports all relevant parties in conducting dialogues in all forms. Li also met separately with Republic of Korea President Moon Jae-in on Wednesday afternoon.
The three leaders also delivered speeches at a sideline event, a China-Japan-ROK business summit of 200 business executives.
"In the past few years, as far as trilateral relations and their impact on both overall economic and individual company performances are concerned, our mutual feeling is that openness and cooperation are conducive to economic development for us all," said the chairman of Chinese company Sanpower Group, Yuan Yafei, who spoke at the summit.
Focusing on retail and healthcare, the Nanjing-based company has 40,000 overseas employees and seeks new market opportunities in Japan and the ROK.
"We very much look forward to a more open and inclusive business environment, in which companies can 'go global' ... with reassurance among the three countries as a result of improved exchanges and collaboration made possible by this summit," Yuan said.
The trilateral meeting was held at the right time, when the world is confronted with rising anti-globalization sentiment and protectionism, said Xu Liping, a researcher at the National Institute of International Strategy at the Chinese Academy of Social Sciences. It also will inject new energy into the global economy and free trade, as well as confidence into economic development in East Asia as long as the three countries carry out pragmatic cooperation, Xu added.