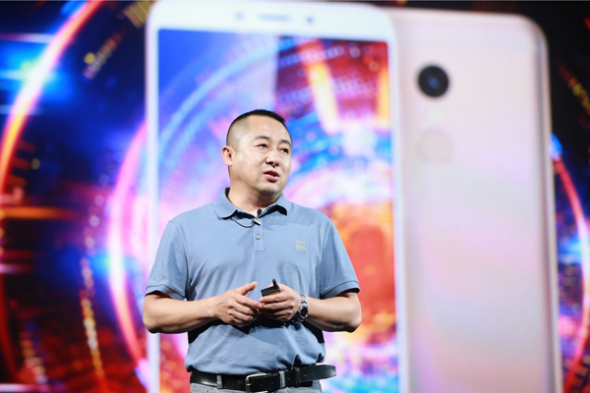 Li Kaixin, president of the mobile phone unit of 360 Security Technology Inc, unveils a new smartphone on Tuesday to target mobile gaming enthusiasts. (Photo provided to China Daily)
360 believes mobile devices will play a big role in coming internet of things era
China's largest internet security company 360 Security Technology Inc unveiled a new smartphone on Tuesday to target mobile gaming enthusiasts, part of the Beijing-based company's broader push to tap into opportunities created by the internet of things.
The move came shortly after Chinese smartphone makers including Xiaomi Corp made an intensified push to develop tailor-made gaming handsets, a popular niche in the country's cooling handset market.
The N7, unveiled on Tuesday in Beijing, is equipped with a full-display screen and a big battery, which can offer a fast and pleasant gaming environment, said Li Kaixin, president of 360's mobile phone unit.
Despite the fact that smartphone shipments are slowing in China, the demand for mobile-gaming handsets is growing rapidly, Li said.
Priced from 1,699 yuan ($267), N7's vision and sound effects have been optimized for Chuliuxiang, a mobile game developed by NetEase Inc. The new smartphone also comes with virtual discount gift bags that can be used in the Chuliuxiang game, the company said in a statement.
Last month, Blackshark, a startup backed by Xiaomi to specialize in mobile-gaming smartphones, also unveiled its first handset, with an operating system and hardware that have both been optimized for playing games. Another Chinese smartphone vendor, Meizu, also released a similar smartphone last month.
The trend is happening as China's mobile gaming market posted 116 billion yuan in revenue last year, up 41.7 percent year-on-year. The number of mobile gaming users in China hit 554 million, according to Chinese market research company Gamelook.
Xiang Ligang, CEO of telecom industry website cctime.com, said smartphone shipments in China fell below 100 million in the first quarter of this year, for the first time since Q3 2013, citing data from the global market researcher International Data Corp.
"Pressure mounts on Chinese smartphone players. Mobile-gaming handset is a niche that they all want to win. Smartphones are now powerful enough to offer gaming ... experience as good as personal computers," Xiang said.
Unlike Chinese players that are marching into the high-end smartphone market, 360 focuses on phones that are priced around 1,000 yuan. The company entered into the market just several years ago, because Zhou Hongyi, chairman of 360, believes that smartphones will play a central role in controlling everything in the era of internet of things.
"360 does not want to make money from smartphones. It aims to lure as many users as possible with affordable devices, so that it can build a smartphone-centered ecosystem for the internet of things," Xiang added.