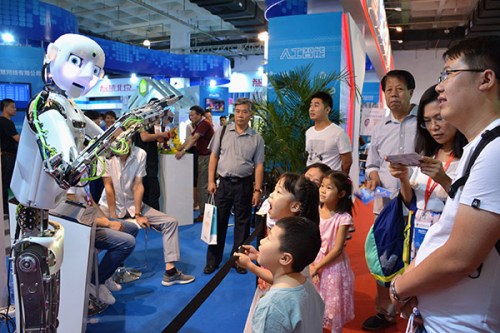 Delighted children and adults watch the performance of a robot at the 2017 China Beijing International High-Tech Expo on June 8. (Photo/China Daily)
Some participating in Silicon Valley conference suggest forming plan
The United States should stop lamenting China's technological innovation and advances in artificial intelligence and focus instead on investing in education and science research, experts from both countries said.
At Saturday's Committee of 100 annual conference in California's Silicon Valley, Feifei Li, chief scientist at Google Cloud AI/ML and director at the Stanford AI Lab and Vision Lab, said the administration of U.S. President Donald Trump should continue to invest in basic science, STEM (science, technology, engineering and mathematics) education, research and public universities to "invest in the future".
In response to skepticism and concerns in the U.S. that China will overtake the U.S. in AI research and applications, Li said "there will always be competition" in science and tech innovation, but the fundamental question for the U.S. government to ask itself is whether it has its own plan and strategy to move ahead in technology development.
The State Council unveiled in 2017 a national AI guideline that calls for developing technology, research and educational resources in AI to achieve major breakthroughs by 2025 and make China an AI innovation center by 2030.
It is China's first comprehensive guideline on AI, and experts are deploying AI technologies in visual image recognition; visual tracking; rendezvous and docking in space; navigation and positioning; mission planning; and spacecraft fault diagnosis.
In contrast, the Trump administration has proposed cutting the federal budget, which would eliminate some research programs that affect NASA, energy research and climate and environmental science programs.
"If the U.S. is not willing to increase its investment in science, technology and AI, then no amount of measures against China through tariffs, through other restrictions (are) going to keep the United States' leadership (in those fields)," former U.S. ambassador to China Gary Locke said at the C100 summit luncheon.
Locke said it's ironic that some U.S. politicians who criticized China for its decadeslong low-end economy of high pollution are now objecting to China shifting toward an innovation-and-tech-based economy.
"It's only natural for China (to transform in this direction)," he said.
Meanwhile, Li emphasized that "science fundamentally has no borders. Not a company nor a country owns technology," she said, adding that she wants to see AI developed for the good of humanity.
"At the end of the day, we will all benefit," Li said.
"We can develop new companies and technologies. There is tremendous value to the consumers," said Jonathan Woetzel, director of the McKinsey Global Institute, on the vibrant dialogue between tech entrepreneurship in Silicon Valley and China.