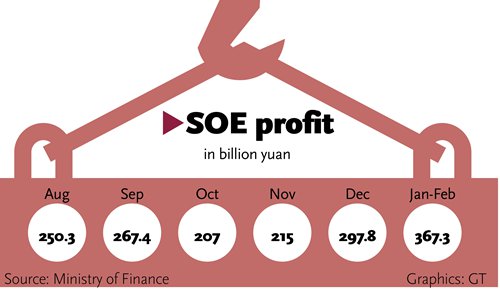 (Graphics/GT)
Industrial upgrading proving successful: experts
State-owned enterprises (SOEs) in China saw an increase in profits in the first two months of 2018, official data showed on Wednesday.
Data from the State-owned Assets Supervision and Administration Commission (SASAC) showed that domestic SOEs saw profits grow by 25.3 percent on a yearly basis to 367.3 billion yuan ($58.5 billion) in the first two months this year, up from 23.5 percent growth in the same period of 2017.
The revenues of domestic SOEs also rose by 11.2 percent year-on-year in the first two months of 2018, according to the SASAC data.
Also, the companies' operational costs rose by 10.6 percent on a yearly basis in January and February, down from 12.6 percent in 2017.
According to SASAC, industries like steel, electricity and coal experienced significant profit growth in the first two months of 2018, while the non-ferrous sector slumped.
"The change in profits has a lot to do with the fall in prices of many non-ferrous metals in recent months and the price surge of ferrous metals like steel," Wu Chenhui, a Beijing-based independent industrial analyst, told the Global Times on Wednesday.
Long-term trend
But Cong Yi, an economics professor at the Tianjin University of Finance and Economics, told the Global Times on Wednesday that the rising profitability of domestic SOEs is not just a temporary trend.
"It shows that the economic structural changes, signs of which have emerged since the first half of 2017, are continuing and expanding this year," he said.
According to Cong, such changes are reflected in phenomena like corporate ability to carry out industrial upgrading as well as bigger investment by companies.
"Things like industrial upgrading are being implemented more in State-owned companies than in private enterprises, as State-owned companies usually have more resources and capital to put into research and development, while private companies are usually centered in traditional industries and have limited capabilities to conduct big reforms," Cong said.
However, this does not mean that SOEs are going to overwhelm or replace private companies in the future. "SOEs are fast in terms of structural adjustment, but private firms are also catching up," he said.
Liu Xuezhi, an expert on macroeconomics at Bank of Communications, said that the improving global environment, such as rising trade demand as a result of the rebounding economy, has also lent some support to domestic SOEs.
But he cautioned that recent changes in the external business environment, particularly tension in Sino-US trade relations, might cast a shadow on the domestic economy in the future.
Flaws to be addressed
Cong also said that the traditional flaws of many domestic SOEs, such as inadequate management and low efficiency, have not yet been entirely fixed.
The government has already carried out several rounds of mixed-ownership reform in an effort to enhance efficiency and guarantee long-term growth.
"The core issues around SOE reforms, such as how to price SOE assets and how to properly link up private capital with SOEs, have not been fully dealt with," Cong said.
But some achievements have also been made in the reforms, Wu said. "For example, the fact that SOE tax growth is lower than revenue and profit growth shows that the government tax-cutting methods are taking effect," he told the Global Times on Wednesday.
In the first two months, SOEs should submit taxes of 791.8 billion yuan in total, up by 9.9 percent on a yearly basis, the SASAC data showed.