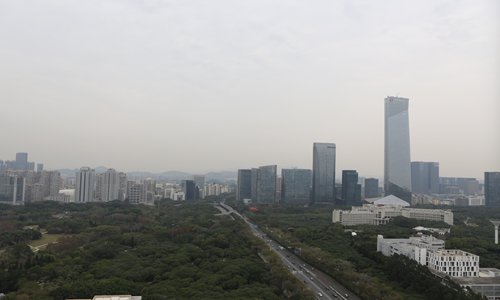 The skyline of the Shenzhen Hi-Tech Industrial Park in the city's business district of Nanshan in Shenzhen, South China's Guangdong Province. (Photo: Chen Qingqing/GT)
China's Silicon Valley to maintain a traditional baseline while driving innovative industries
Summary:
Beijing and Shanghai are not the only homes and workplaces to expats in China. Rising as a new innovation hub, Shenzhen has been attracting more and more foreign entrepreneurs in recent years. As of the end of 2015, there were in total 1.15 million foreigners living in Shenzhen, mostly from Japan, South Korea, the U.S. and India.
When Laurent Le Pen first came to Shenzhen, South China's Guangdong Province in 2007, he had to explain to his friends that he had moved to a city near the Hong Kong Special Administrative Region, as no one could pinpoint the city on the world map at that time.
The 35-year-old French entrepreneur has been working at the Shenzhen Hi-Tech Industrial Park in the city's business district of Nanshan for the past decade.
"I've seen the high-tech park grow from just a few buildings… into an amazing neighborhood full of skyscrapers and companies," he said.
When Le Pen arrived in Nanshan a decade ago, only a few companies, like ZTE Corp, were operating there, and Tencent's famous headquarters building was still under construction.
Now, he is surrounded by a number of major Chinese tech firms such as DJI and Huawei Technologies Co, Le Pen told the Global Times.
The city's business district has become the breeding ground to 2,223 State-level high-tech companies, accounting for nearly 9 percent of the total number of high-tech firms in China, according to a document the local government sent to the Global Times.
Meanwhile, Nobel Prize-winning scientists had already set up three laboratories in the district as of mid-October 2017, while two more were on the city's planning permission list.
For 2018, the district has secured in total 1.82 billion yuan ($287.7 million) for high-tech and innovative industry development initiatives, including 400 million for rental subsidies for talents, with the aim of attracting more multinational tech companies to invest in the area, the document showed.
Inspired by innovation and entrepreneurship, Le Pen created his own tech start-up called Omate in 2013, which designs and produces wearable devices. The firm provides different types of products for elderly people and children, with features like GPS and touch screens.
However, the French entrepreneur was more excited when he talked about another company that he co-founded, Oclean, which designs and manufactures smart healthcare devices and was invested in by Huami in May 2017.
Huami is a hardware manufacturer for Chinese tech firm Xiaomi. And when the company got listed on the New York Stock Exchange on February 8, it became the first company of Xiaomi's ecosystem to be listed on the U.S. stock market.
"Impressive, and goodbye Fitbit," Le Pen said when the Chinese company rang the opening bells at the stock market that day to celebrate its IPO.
All about tech
Besides living in Shenzhen, Le Pen noted how he also spends the odd day in Silicon Valley in the U.S.
"China is eager to adopt new technologies," he said, noting that he sees more new things coming out of China, and less from the U.S., which used to be an incubator for innovation.
Those new technologies attract newcomers from all over the world to the prosperous city of Shenzhen; they can check out the latest gadgets and follow hot business trends.
A Ukrainian businessman who called himself Nick was recommended by his friends in Los Angles to move to Shenzhen for business, prompting him to travel to the city for the first time.
When he arrived at one of the city's electronics marketplaces, he was impressed by its scale and reasonable product prices, he told the Global Times.
Over the past 10 years, Shenzhen has been transforming from a hub of consumer electronic manufacturing to a center of innovation, as more and more local companies have come up with their own designs.
"Many people say Shenzhen is the new Silicon Valley for hardware, I [certainly] think it's the new Silicon Valley," Le Pen said.
Backbone of the city
Diego Antolini, another foreign entrepreneur living in Shenzhen who engages in the traditional business trade, said that the city should not forget that the baseline of this new Silicon Valley is still manufacturing.
Antolini has been living in the city for four years and spends most of his time in factories in Baoan and Longgang, industrial areas on the outskirts of Shenzhen, where he helps train local Chinese enterprises to effectively interact with Western businesses.
"Foreigners can say, 'Shenzhen is about technology'," Antolini said, noting that this refers to outside perspectives. A glittering, high-end city is just the surface, while industrial zones have gathered hundreds and thousands of factories to support its constant development, he noted.
"Because the industry makes the pieces - the mechanical parts - that makes technology work," the Italian businessman said.
Due to the skyrocketing land prices in Shenzhen, thousands of manufacturers have been fleeing the city in recent years, including those major electronic device makers such as ZTE and Huawei.
In 2014, ZTE moved its production line to Heyuan, another city in the eastern part of Guangdong, followed by Chinese automobile manufacturer BYD Co Ltd setting up two projects in Shanwei, located in the southern part of the province, a year later, according to media reports. Those two companies both host their headquarters in Shenzhen.
The Chinese city, as well as the whole Pearl River Delta region, still plays an important role in manufacturing and could never get rid of factories, noted Antolini, who frequently travels to Southeast Asia.
"Raw materials are more easily ready [in the region]," he said, adding that the quality of Made in China products is much better compared to those from emerging markets like Vietnam or Cambodia.