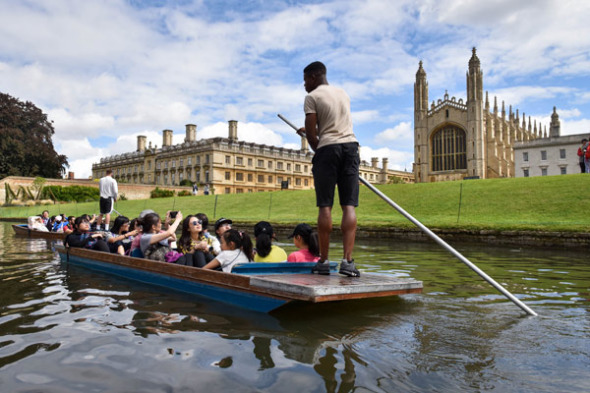 The University of Cambridge has become a popular tourism destination for Chinese people. (Tan Xi/For China Daily)
Improved business ties-supported by factors such as the development of the Belt and Road Initiative, simplified visa procedures and better aviation services-will further stimulate people-to-people exchanges and tourism between China and the United Kingdom over the next decade, according to experts.
Dai Bin, head of the Beijing-based China Tourism Academy, said the signs were good for strong development.
He said English culture, as well as the UK's renowned shopping precincts, fashion brands, famous museums, tourist spots, as well as supportive policies and mature tourism facilities, would push the growth of travel by Chinese tourists to the country over the next 10 years.
Research released in November by the China Tourism Academy found that over 115,000 Chinese tourists visited the UK in the first half of 2017, up 47 percent year-on-year.
According to the academy's findings, the majority of Chinese tourists heading overseas have middle to high incomes, with around 75 percent spending between 5,000-20,000 yuan ($760-$3,040) on their travels last year. They prefer medium-priced or budget hotels and tend to choose self-planned, customized vacations.
A spokesman for the operators of one major London landmark-Battersea Power Station, an iconic piece of British architecture and cultural heritage in London-told China Daily via email that 2018 would be a transformational year for the venue and the capital city because there were so many activities, events and shopping and dining experiences for Chinese and other international visitors to enjoy. "Having been filmed for several films including British classic Sherlock Holmes and Fast and Furious 6, a top-grossing movie in China, this clearly adds to its global appeal, particularly among Chinese visitors to London," the spokesman said.
"The UK has always been a popular destination for Chinese tourists and there are several well-known landmarks and places of interest that typically appeal to visitors from this region."
Tong Linlin, a professor specializing in tourism management at Beijing Technology and Business University, said that much of the growth in the UK's tourism sector was being driven by visitors from Asia. These included tourists from China, South Korea and India in recent years, and thanks to their growing disposable incomes the demand was growing for in-depth travel, not to major cities, but also to popular towns and the countryside.
More than 170,000 Chinese students study in the UK. There are also 29 Confucius Institutes and 148 Confucius Classrooms in the UK, with more than 160,000 registered students learning Mandarin, data from the education section of the Chinese Embassy in London show.
Over 500 Chinese companies have a presence in Britain. They represent sectors including trade, finance and telecommunications. The groups are moving into emerging industries, such as new energy, high-end manufacturing, infrastructure, research and development, with total investment to date of about $18.9 billion.
"Among those projects, the Hinkley Point C nuclear power plant is a signature deal that binds the UK and China closely to a future energy partnership," Tong added.