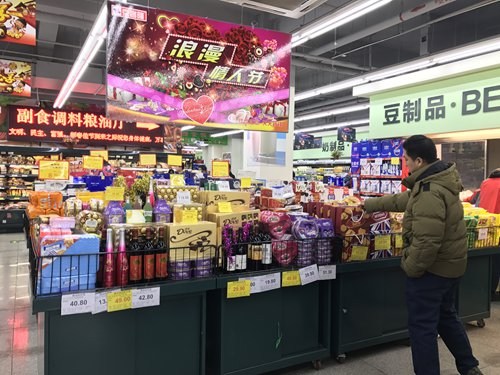 A customer shops at a Valentine's-themed promotion section in a supermarket in Chaoyang district, Beijing on Tuesday. (Photo: Huang Ge/GT)
Given the increasing commercialism attached to festivals in China, domestic business owners are eagerly making use of this year's Valentine's Day to drive a surge in the "romance economy" by launching special promotions to attract potential customers, analysts said.
A shopping mall located in Beijing's Chaoyang district launched their Valentine's-themed promotions two days early, according to a salesperson surnamed Xu.
Xu told the Global Times on Tuesday that "sales in jewelry, cosmetic products and ladies' wear would always increase on the festival as such products are offered with many discounts."
"Other products like chocolate, wine and candy, which are normal Valentine's gifts, also have a 30 percent discount on the day," she said.
As a common choice for Valentine's Day gifts, roses are extremely popular. "The wholesale price of one single rose stood at 25 yuan ($3.60) on Valentine's Day, while it only costs five yuan on normal days," a florist surnamed Han working in Chaoyang district told the Global Times on Tuesday.
Han said that "a bunch of 15 roses cost 300 yuan to 500 yuan and that 99 roses cost 1,800 yuan, which are purchased by male consumers on this special day."
Han raised the wholesale prices of roses and other flowers three days before the festival and said that "such high level price of roses would continue three more days after the festival."
Advertisement boards reading "Valentine's set meal hot reservation" were placed in conspicuous places around restaurants in the Sanlitun area in Chaoyang district.
One employee who works at a Western restaurant in Sanlitun told the Global Times Tuesday that "tables are booked as early as January in our restaurant, and 90 percent have been reserved on the festival."
Beijing resident Wynton Chen told the Global Times Tuesday that "gifts and going out to dinner with my lover is a must on this special day."
Hotel reservations, as part of the romance economy, also grow during the holiday. The peak period for reservations for couples-themed hotel rooms across the country ran from Friday to Wednesday, and the trend of hotel reservations is spreading to third- and four-tier cities, domestic news portal idckx.com reported Monday, citing information released by online travel service provider Qunar.
Consumption changes
"Such consumption behavior is driven by changes in Chinese people's consumption modes and thoughts," said Tian Yun, director of the China Society of Macroeconomics Research Center.
Tian told the Global Times on Tuesday that a profound reason is that people are now richer with the development of the nation's economy, and their lifestyles are also becoming more international, leading to the increasingly materialistic demands, such as shopping and buying flowers on holidays.
Wang Danqing, a partner with Beijing-based ACG Management Consultancy, agreed, saying that domestic business owners try to grasp Western holidays like Christmas as well as traditional Chinese festival including Qixi, the traditional Chinese Valentine's Day, to launch promotions to drive sales.
Online deals
Vendors on e-commerce platforms are also longing for a piece of the "romance economy" pie, according to experts.
Page views for flowers on taobao.com, a domestic online shopping platform, increased 641.38 percent month-on-month during days close to Valentine's Day, according to data Alibaba sent to the Global Times on Tuesday.
On domestic e-commerce platform suning.com, sales of products related to Valentine's Day reached 50 million yuan by the end of Monday, and electronics products like smartphones and digital products enjoyed an increasing popularity, news portal huanqiu.com reported Monday.
Holiday buying can also raise sales on e-commerce platforms, Wang told the Global Times on Tuesday, noting that online and offline consumption would become more integrated in the future.
Online stores also cater to single people for the holiday. For example, services like helping someone chase the girl he likes costs up to 2,000 yuan. About 300 people bought the service recently, according to Alibaba.