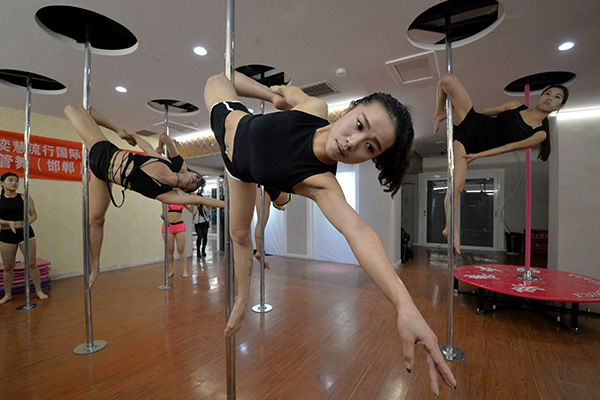 Women work out during a pole dancing class at a self-improvement center. (Photo/China Daily)
In a ballet dancing classroom at Changning district, Shanghai, 12 students form an unbelievably straight line during their one-hour choreography lesson. Opposite their room is an ukulele classroom, and next to it, an oil painting studio.
Saturday afternoons are busy hours on the sixth floor of this commercial complex, fully packed with "consumers", hailing from different parts of the megapolis. They want to learn and master new skills that are marketed as "cultural products", a euphemism for art programs.
Evidently, "cultural consumption" is on the rise in Shanghai.
Alongside sports, tourism, and outdoor activities, art programs including oil painting, brushwork painting, learning how to play musical instruments, dancing and singing are getting increasingly popular among discerning, well-off consumers whose accent is on what they can do or achieve in life rather than what they can buy.
"I spent 20,000 yuan on a ballet course, which I would have spent on a luxury bag back in 2014," said Yang Shanshan, 26, an advertising specialist.
Retirees, young professionals, school students said they enjoy the progress they make in these art programs.
Huang Fanwen, 62, has been learning flower arrangement for three years. She also brings her 12-year-old granddaughter to the class.
"Art classes like flower arrangement are less about utilitarianism and more about beauty and joy. It helps you to develop a new perspective on life, noticing every detail in seasonal changes, identifying the finest differences in two similar shades," she said.
In China, art programs and skill training have evolved from a small market with 6.4 billion yuan in sales revenue in 2008 into a sizable market with 46 billion yuan in revenue in 2015, with compound annual growth rate reaching 32 percent.
It is expected that the market size will further grow to 80 billion yuan in 2018, said a research note from Beijing-based Zhi Yan Market Research Ltd.
Existence of such courses, programs and activities reflects consumers' changing value systems and priorities in life, which is getting reflected in their spending patterns as well, said researchers.
As incomes grow, consumers are becoming aware of qualitatively different spending options like personality development courses and training in so-called soft skills or interpersonal intelligence.
"After having everything you want to have in terms of material possessions, you want to think about what you want to be. Acquiring more skills, not for the purpose of showing off but just to enrich one's own life, makes one feel more contented. That's why growth (of sales of cultural goods) is fast and outlook (for cultural consumption) bullish," said Qin Yazhou, consumer behavior analyst with Shanghai-based Shendu Market Research Services Ltd.