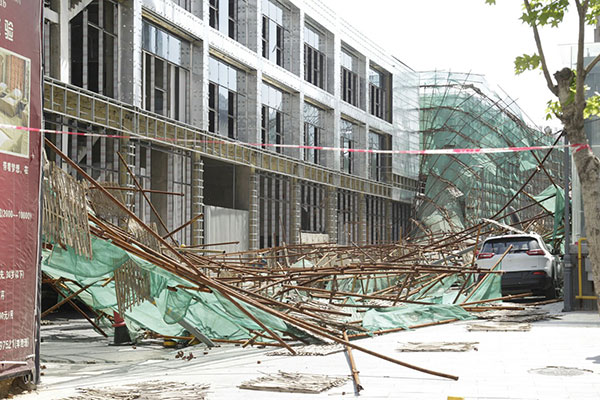 Scaffolding outside a building in Zhengdong district, part of Henan province's capital Zhengzhou. (Photo/China Daily)
"I can't see any ghosts," exclaimed Mel Lone, as he looks down out of his 29th-floor offices in Landmark Plaza over Zhengdong New District, the new part of Henan province's capital Zhengzhou.
Human activity can be seen everywhere, with the new highways streaming with vehicles and nearby offices and residential apartment blocks seemingly fully occupied.
Yet just two years ago Zhengdong was dubbed one of China's so-called ghost towns by CBS' flagship current affairs program 60 Minutes, which pointed out empty office blocks and an absence of human existence.
"If someone looked at me and said there is a ghost, that would be a different story," said Lone, a 67-year-old, white-haired Pakistan-born businessman, who has lived in the new district since 2009.
His company, Greka, which extracts gas from coal using CBM (coal bed methane) technology of which he is chief operating officer, is one of a number of new businesses that have relocated to the city area in recent years.
According to a report by Standard Chartered, China Property-Mystery of Ghost Cities, published last year, the residential occupancy rate of Zhengdong was 30 percent in 2012. That had doubled to 60 percent by 2014 and now is almost certainly much higher.
Wade Shepard, author of Ghost Cities of China, said that by the time the CBS program aired in early 2013, the situation had changed dramatically from when it was filmed at the end of 2012.
"I was actually there in March 2013 and it looked a lot different from the program itself. There were a lot of Chinese banks with their regional headquarters located there when the filming was taking place," he recalled.
According to the same research by Standard Chartered, typical occupancy rates for a new district in China during the initial phase (first five years of a development) are under 20 percent. They then increase to around 50 percent in the rapid growth phase (six to 10 years) and then to between 70 and 80 percent in the mature phase (11 to 15 years).
Zhengdong, where construction started in 2003, is now in its mature phase.
"If you are urbanizing, it would take a genius to build a new city area at the same pace as demand," added Shepard.
"There are inevitably going to be lags in some way, shape or form before you get the movement of people and businesses."
60 Minutes was not the first to suggest that China was creating ghost cities and that its urban development had somehow gotten out of control.
Ordos Kangbashi, built in the desert some 23 kilometers outside Ordos, the Inner Mongolia autonomous region, was itself the subject of media attention. One report by Al Jazeera in 2009 claimed that despite its giant skyscrapers and wide streets "nobody lived there".
Other areas that have attracted attention are Chenggong, a new district of Kunming in Yunnan; Dantu, part of Zhenjiang in Jiangsu; the new area of Linyi in Shandong; and the new urban area of Xinyang, which like Zhengdong, is in Henan.
Shepard believes even when occupancy rates in these areas were relatively low, they were rarely deserted as has been claimed.
"If you have a district of hundreds of 30-story apartment blocks and they are 50 percent empty, that is still a lot of people living in the area," he said.
Regardless of whether the scale and pace of China's urban development has been set at the right level, the world's second-largest economy has shown it has the ability to deliver such huge projects in a short space of time.
Much of the credit for that has to go to its planning system, which is renowned for being decisive and can anticipate needs many years ahead.
In many other countries, where there are often lengthy planning enquiries, urban development often lags well behind demand.