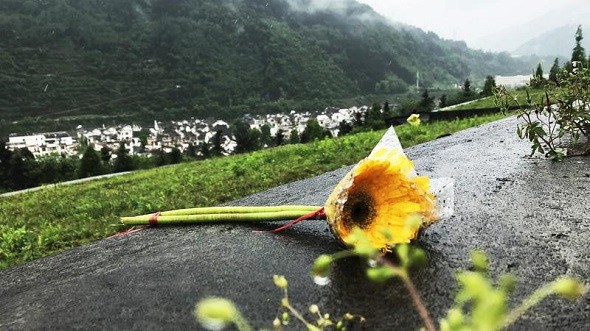 On each year's Spring Festival and Qingming Festival (Tomb-Sweeping Day), Zhou Yuye and her mother Yu Qin attend a mass grave outside the 5.12 Wenchuan Earthquake Epicenter Yingxiu Memorial to remember her father Zhou Lunju and teacher Zhang Miya. (Dara Wang/China Daily)
The Wenchuan earthquake 10 years ago caused a seismic shift in the lives of millions in Sichuan province. Dara Wang discovers how the tremors continue to reverberate through the life of one courageous survivor. [Special coverage]
There was blackness all around. Zhou Yuye couldn't move. She lay trapped, in the death grip of someone who had died, under debris that had fallen from the ceiling and crushed her under its weight, making breathing difficult.
"I was on my stomach, my arms stretched out in front. My left one was caught tight between something," Zhou said. "Someone's arm hugged my right shoulder. It was deadly tight and made me uncomfortable. I wanted to move it, but I couldn't."
Zhou, a 7-year-old Grade-2 student at Yingxiu Primary School, faced the specter of the end of her life. It was May 12, 2008.
At dusk on the evening of May 13, 27 hours after the catastrophe, rescuers found Zhou and another student in the embrace of lifeless teacher Zhang Miya, 29, as if the children were enfolded in the wings of an angel. Zhang had held the two surviving children so tightly that rescuers had to saw off his arms to set the children free.
Zhang was one of the 80,000 people who died in the Wenchuan earthquake. The school where Zhang taught sat right at the epicenter of the magnitude-8.0 quake.
Zhou remembered the moments leading up to the disaster. It was close to 2:28 pm on that fateful day. Zhou had been in math class, memorizing multiplication tables. There was a tremendous crash outside the classroom window. The world began to roll and shudder.
Vague memories come back to Zhou of her teacher shouting, "There's an earthquake — get under the (teacher's) desk!"
"I saw a huge gray wave rushing at me. I was dumbstruck," Zhou recalled. She forced a smile as she told her story, but it quickly vanished. "I didn't know what was happening. I didn't know what an earthquake was," she sobbed.
Zhou did as commanded and ran toward the desk. "The ceiling started falling piece by piece."
She has no memory after that. She lay unconscious and was awakened to the sound of voices of other surviving students crying out for help. She could barely move. Breathing was difficult and there was excruciating pain in her crippled arm.
She remembers, in the blackness, a container of yogurt being pressed into her hand. She took only a little before passing the container to another student. It was the first time she'd had sustenance since the previous afternoon.