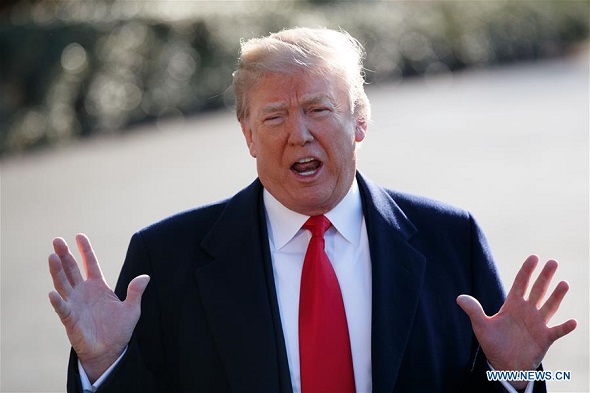 U.S. President Donald Trump (Photo/Xinhua)
U.S. President Donald Trump on Friday spoke with Singaporean Prime Minister Lee Hsien Loong to discuss his upcoming meeting with top leader of the Democratic People's Republic of Korea (DPRK), Kim Jong Un.
According to a statement of the White House, Trump, in a telephone call, thanked Lee for his willingness to host his June 12 meeting with Kim.
The two leaders also discussed regional security dynamics in the region. Trump and Lee reaffirmed the bilateral relationship, which the White House said had been "one of the United States' closest partnerships in Asia for more than 50 years."
Trump said that he looks forward to seeing Lee in Singapore soon.
When asked about the reason why Singapore was chosen, White House Principal Deputy Press Secretary Raj Shah on Thursday told the media that the Southeast Asian nation has a relationship with both the United States and the DPRK.
They can ensure both the President's security and Kim Jong Un's security, as well as provide neutrality, he said.
Troy Stangarone, senior director of congressional affairs and trade at the Washington-based non-profit Korea Economic Institute, told Xinhua that "Singapore is a neutral location for both sides that has traditionally been seen as a place where the East meets the West."
"The United States and North Korea (the DPRK) have previously held meetings there, and the infrastructure is well placed to hold a summit meeting. Also, due to diplomatic and business ties, it is a place where the North Koreans would feel comfortable meeting," he said.