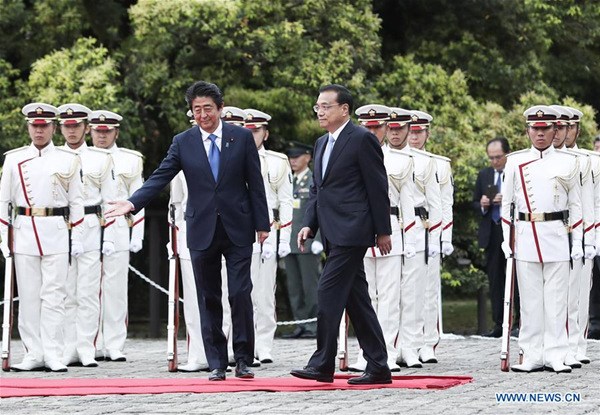 Japanese Prime Minister Shinzo Abe holds a welcome ceremony for visiting Chinese Premier Li Keqiang before their talks in Tokyo, Japan, on May 9, 2018. (Xinhua/Pang Xinglei)
Chinese Premier Li Keqiang's visit to Japan has opened a new chapter for economic and trade relations between the two countries.
Li wrapped up a four-day official visit to Japan on Friday, which coincided with the 40th anniversary of the signing of the China-Japan Treaty of Peace and Friendship.
During the visit, the first in eight years by a Chinese premier to Japan, the two countries agreed to carry forward bilateral economic and trade relations and promote pragmatic cooperation.
CONSENSUS ON FURTHERING ECONOMIC TIES
China and Japan agreed to lift their pragmatic cooperation to a new level, Li told a reception marking the 40th anniversary of the signing of the China-Japan Treaty of Peace and Friendship in Tokyo on Thursday.
The two sides have set out the direction and pinpointed new areas for future cooperation, reaching agreements on social security, finance, health, medical science and service trade, Li said.
Calling on the two countries to synergize their development strategies, Li pointed to energy conservation, environmental protection, scientific and technological innovation, high-end manufacturing, finance, sharing economy, medical and old-age service as sectors where the two sides should focus on.
During the visit, the Japanese side expressed their readiness to enhance economic and trade cooperation with China.
Sadayuki Sakakibara, chairman of Japan Business Federation, also took part in the event. He said he looks forward to more of such high-level visits between the two neighbors.
Business people of both sides can work together, especially within the framework of the Belt and Road Initiative and in jointly developing third-party market, he said.
For his part, Yohei Kono, former speaker of the Japanese House of Representatives, said he was amazed by the popularity of new services like bike-sharing, mobile payment and Internet-based delivery during his recent visit to China.
The progress made by China is worth learning from, said Kono, adding that China and Japan should learn from each other to achieve common prosperity and make joint contribution to the development of the world.
On infrastructure building, Japanese Prime Minister Shinzo Abe suggested at the reception that Japan and China set up a cross-department committee and a forum to promote cooperation on meeting Asia's infrastructure development demand.
CONCRETE STEPS
China and Japan were not just showing goodwill, but also have taken concrete steps to promote economic and trade ties.
On Wednesday, Li and Abe witnessed the signing of a memorandum on enhancing service trade cooperation by China's Minister of Commerce Zhong Shan and Japanese Minister of Economy, Trade and Industry Hiroshige Seko in Tokyo.
On the same day, China's National Development and Reform Commission and Ministry of Commerce signed a memorandum on third-party cooperation with Japan's Ministry of Foreign Affairs and Ministry of Economy, Trade and Industry.
In addition to a bilateral service trade cooperation mechanism, China and Japan also agreed to set up a cross-department work mechanism for promoting third-party market cooperation under the framework of the China-Japan high-level economic dialogue, and organize a forum on the third-party market cooperation.
On Friday morning, when visiting a factory of Japanese carmaker Toyota in Japan's northern island of Hokkaido, Li called for deepening bilateral cooperation on joint R&D and innovation so as to produce competitive high-tech goods that meet the demands of Chinese and Japanese markets and also third-party markets.
China also agreed to grant Japan RMB Qualified Foreign Institutional Investors (RQFII) quota of 200 billion yuan (about 31.36 billion U.S. dollars), Li said when meeting with Abe on Wednesday.
The granting of the RQFII quota would help Japanese financial institutions actively invest in China's capital market through the RQFII, Li said.
The two sides have also agreed in principle to sign a currency swap deal at an early date, and this will help safeguard financial market stability and promote investment facilitation, Li said.
China holds a positive attitude toward establishing RMB clearing bank in Tokyo, the premier said.