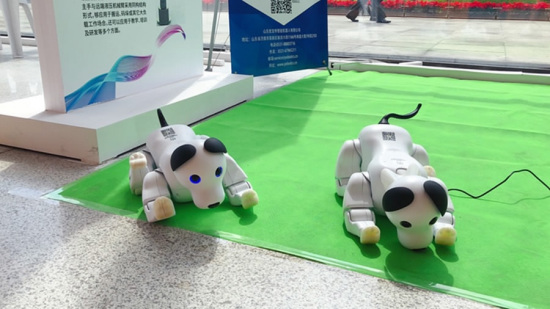 A pair of robotic dogs roll on the ground. Such robots are equipped with delicate sensors, which allow them to detect the movements of their owners, providing better emotional companionship. /People's Daily Photo
The 5th China Robotop and Intelligent Economic Talents Summit kicked off Wednesday in Yuyao City, east China's Zhejiang Province. The summit has been held successfully since 2014, with this year attracting 69 leading scholars and over 1,500 entrepreneurs from 18 countries and regions.
Integration between artificial intelligence (AI) and robotics industry has been one of the major highlights at the ongoing session. China has listed intelligent manufacturing as a key development industry in its 13th Five-Year Plan, with a focus on bridging the gaps in robot industry, education and research.
The theme for this year's gathering, also known as the China Robot Summit, is "the unity of knowledge and action, the fusion of AI and robot".
At the week-long summit, experts shared their views on the development direction of robot and current situation of China's robotics industry, and how to integrate AI with robots.
"The robots cannot always meet the needs of people in general. We hope they could be more intelligent, so that AI could find a new carrier," said Liu Jinchang, a research fellow with High Technology Research and Development Center (HTRDC) under the Ministry of Science and Technology.
The summit has been one of the most influential events in robotics industry after the World Robot Conference. The development concept that it advocates becomes the wind vane of the development of China's robotics industry.
"We have the World Robot Conference in Beijing, and the China Robot Summit in the south. The two summits, one in the north and the other in the south, support each other, with a common goal of making China's robot and AI greater and stronger," added Liu.
The summit concludes on Friday.