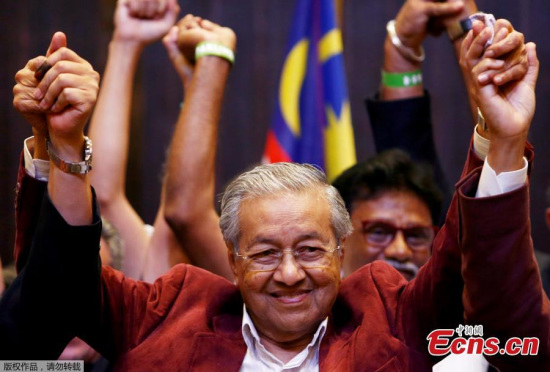 Mahathir Mohamad, former Malaysian prime minister and opposition candidate for Pakatan Harapan (Alliance of Hope) reacts during a news conference after general election, in Petaling Jaya, Malaysia, May 10, 2018. (Photo/Agencies)
Newly elected Malaysian Prime Minister Mahathir Mohamad on Friday named 10 new ministries, the first step for him and his Pakatan Harapan (PH) coalition to organize a cabinet after a sweeping victory to power.
At a press conference held after a meeting with other component party leaders in the PH coalition, Mahathir listed finance, home affairs, education, multimedia, science and public roads among 10 areas that need to have a minister as soon as possible.
"We do not want to have a huge cabinet, but there are certain ministries which need to be filled immediately," said Mahathir, adding he will give time to the component parties to discuss which ministry they want to lead.
The first 10 ministers in the new cabinet line-up will be unveiled Saturday, said Mahathir, who was sworn in on Thursday night. The previous government under defeated Prime Minister Najib Razak has more than 25 ministries.
Mahathir promised in his campaign to help free Anwar Ibrahim, a former deputy prime minister who is in prison for sodomy charges. He said the Malaysian king has agreed to give Anwar a full pardon, paving the way for the former opposition leader to participate in politics and become the successor of Mahathir.
He also highlighted electoral fraud such as bribing voters and cross-over voting, saying such acts will be treated as corruption.
While admitting it is not possible to erase corruption, Mahathir said he wants to control or reduce it to the minimum level.
"Political corruption badly affected the democratic process," he said, referring to constituencies being changed and people being bought over.
When asked about his plan on the investigation surrounding 1MDB, a scandal-hit development fund, Mahathir expressed his no-confidence to the current attorney general (AG) Mohamed Apandi Ali, saying the AG is "undermining his own credibility" and "has hidden evidence of the wrongdoings."
Other government institutions in charge of fighting corruption, including the Malaysian Anti-Corruption Commission (MACC), will also be scrutinized, according to Mahathir. He said the government will study whether the MACC is fair or not.
"If we found that they are biased or in favor of any groups including ourselves, we will have to change them."
On foreign relations, Mahathir said Malaysia intends to maintain good relations with all countries and will not interfere in their policies or systems.
"We are very keen to ensure that the market for Malaysia's products will be as large as possible," he said, adding "Malaysia wants to have access to all the markets of the world."
Mahathir, 92, who championed independent foreign policy during his first premiership from 1981 to 2003, said Malaysia is going to be neutral and will not be influenced by "big powers."