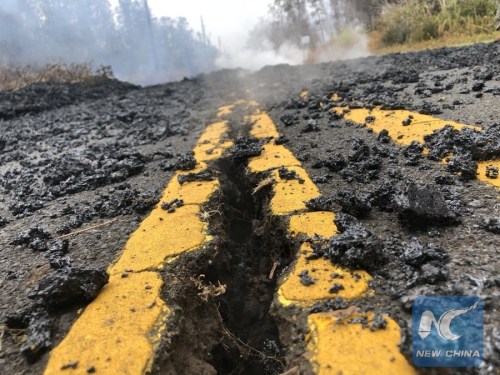 Cracks and volcanic debris are seen on a road in Leilani Estate, Hawaii, U.S., May 9, 2018. According to reports of the Hawaii State government, eruptions of the Kilauea Volcano had forced the evacuation of thousands of people. (Xinhua/Tao Xiyi)
As the potential for "explosive eruptions" from the "smoking" Kilauea volcano is rising, which could spray "ballistic rocks" and ash over nearby towns, local authorities are putting extra emergency measures in place.
"Steady lowering of lava lake at summit of Kilauea Volcano has raised potential for explosive eruptions in coming weeks," the United States Geological Survey (USGS) warned on Wednesday.
"The main hazards from summit explosive eruptions are ballistic rocks and ash fall," the agency warned.
Kilauea, one of the world's most active volcanoes, began spewing lava into the Leilani Estates residential area a week ago after its increased activity was foreshadowed by dozens of small earthquakes.
More violent eruptions at the crater could begin mid-May, shooting rocks weighing several tons for over half a mile, hurling pebble-sized projectiles several miles and dusting areas up 32 km away with ash, according to the USGS.
In addition, there's the potential for steam and hazardous sulfur dioxide emissions.
A team from the Hawaii and Arizona National Guards monitored air quality this morning at the latest fissure to open up along Leilani Avenue, according to Hawaii's largest daily newspaper Honolulu Star-Advertiser.
Officials announced Wednesday a 15th fissure opened up in Leilani Estates on Big Island in Hawaii after two others appeared Tuesday.
Rockfall generated a short-lived explosion at the Kilauea volcano's crater on Wednesday, said the USGS, adding "Intermittent eruption of fissures in lower East Rift Zone continues, new fissures possible."
The Hawaiian Volcano Observatory (HVO) geologists measured a temperature of 103 degrees Celsius at a crack along Nohea Street, Leilani Estates, and the USGS said "the asphalt road was described as 'mushy' from the heat."
"If the lava column drops to the level of groundwater beneath Kilauea Caldera, influx of water into the conduit could cause steam-driven explosions," HVO warned.
"Should steam-driven explosions begin, ash clouds will rise to greater elevations above ground. Minor ashfall could occur over much wider areas, even up to several tens of miles from Halemaumau," it said.
"In 1924, ash may have reached as high as 20,000 feet (6,000 meters) above sea level. Small amounts of fine ash from these explosions fell over a wide area as far north as North Hilo (Hakalau), in lower Puna, and as far south as Waiohinu," HVO said.
Hawaii Gov. David Ige has issued a supplemental emergency proclamation for the Kilauea volcano eruption that will help authorities cope with the threat to the Puna Geothermal Venture as well as other "unpredictable risks" posed by the eruption.
The PGV plant has "increasingly threatened" the eruption of Kilauea volcano, authorities said, and Ige noted that the geothermal energy plant was accelerating its removal of stored flammable gas.
The volcano, which has been in near-constant eruption since 1983, erupted again last week. A powerful earthquake shook the crater the next day. Lava flows from fissures on its flank have destroyed dozens of homes and other buildings, and caused the evacuation of thousands of residents.
Authorities had previously ordered nearly 2,000 residents to leave Lanipuna Gardens and the neighboring Leilani Estates area, both located in the mostly rural district of Puna on Hawaii's Big Island.