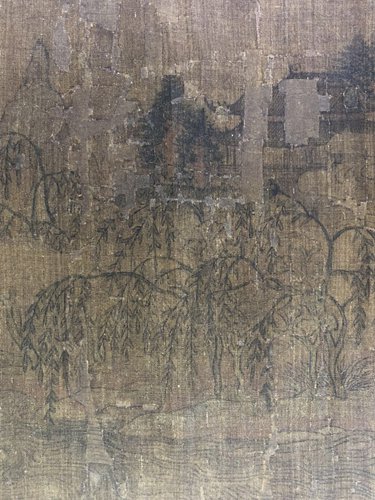 Colorful Landscape by Wang Wei (Photo: Xu Liuliu/GT)
A Tang Dynasty (618-907) painting titled Colorful Landscape is set to go under hammer at the upcoming Spring Auction Season held by the Beijing-based Council auction house June 15-16.
The painting, considered by many researchers to be the work of Tang Dynasty poet Wang Wei, is one of the oldest extant Chinese landscape paintings.
According to Liu Jiuzhou, one of the researchers who examined the painting, various clues indicate that it dates from the Tang Dynasty.
"From the short comments by scholars and collectors during the Ming (1368-1644) and Qing (1644-1911) dynasties to the painting style used for the mountain, we are positive that it is an original Tang painting," he said at a press conference announcing the sale on Thursday.
Dong Guoqiang, president of the Council auction house, added that, "There are no more than six Tang Dynasty paintings that we know of left in the world. Among those, only Colorful Landscape can be considered a Tang landscape painting."