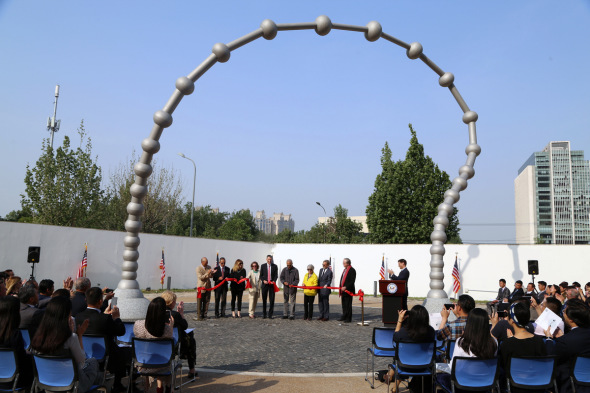 The sculpture Connecting is officially unveiled at the U.S. Embassy in Beijing on May 8, 2018, with hundreds of guests attending from political, commercial and cultural circles. (Photo provided to chinadaily.com.cn)
Connecting, a monumental sculpture specifically designed for the United States Embassy in Beijing, was officially unveiled at the embassy on May 8.
Designed by American artist Martin Puryear, the sweeping stainless-steel arch stands 31 feet (9.45 meters), and is visible to the public from outside the embassy.
"This sculpture is now very much part of our embassy community, part of this city, and part of the bilateral relationship," said Jonathan Fritz, chargé d'affaires of the embassy, who delivered welcome remarks at the ceremony.
In 2008, the Foundation for Art and Preservation in Embassies (FAPE) commissioned Puryear to create a site-specific work for the US Embassy in Beijing. The artist, then 66, spent 10 years planning and working, and finally finishing after a decade.
Made of 316 pieces of stainless-steel material, Connecting, the sculpture, represents good will and earnestness between the people of the two countries, the artist said. "It means to connect," he added. Born in Washington, DC in 1941, Puryear received the National Medal of Arts in 2011 for his contributions as an American sculptor.
"It's a gift from us to the U.S. Embassy and to this city," said Eden Rafshoon, President of FAPE. FAPE is a public-private partnership dedicated to encourage cross-cultural understanding by providing permanent works of American art for US embassies worldwide.