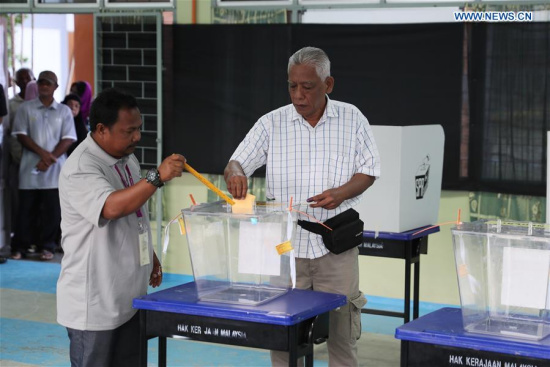 A voter casts ballot at a polling station in Pekan, east Malaysia's Pahang state, May 9, 2018. Malaysia held general elections on Wednesday. (Xinhua/Zhu Wei)
Malaysian voters Wednesday morning went to the polls for the country's general election, with the ruling Barisan Nasional (BN) coalition meeting a fierce challenge brought by the opposition alliance -- Pakatan Harapan, or the Alliance of Hope.
The BN led by incumbent Prime Minister Najib Razak is betting on generous handouts and the "proven track record" of the government to seek a third term. While former Prime Minister Mahathir Mohamad, leading the Pakatan Harapan, is calling for a change.
Though most political analysts have favored the BN to win, the opposition seemed to have managed to raise concerns among voters on certain issues such as increasing living costs, adding uncertainties to the election.
The 15 million eligible voters are expected to cast their votes between 8 a.m. and 5 p.m. local time Wednesday.
On Wednesday morning, people swarmed to polling stations in the capital city of Kuala Lumpur and around the country, which have been decorated with campaign posters and flags bearing the symbols of various political parties.
At a polling station of Titiwangsa constituency in Kuala Lumpur, voter Ahmad Fizal said he hoped the candidate who wins could take the responsibility of the welfare of the area.
"I hope the candidate could help on the welfare of the people and the welfare of the region, no matter it's financial assistance, economic assistance or any other assistance," he said.
Another voter, Syed Hasanuddin Bin Syed Abdullah, said he hoped the next government could do more to improve the multi-racial society.
"We do tend to have a lot of issues, politically and in our social imbalance, we have ethnic diversity so I hope with this vote we will not have any differences between Malays, Chinese and Indians, that's a main thing," he said, referring to the three major ethnic groups in the country.
The 11-day campaign period culminated on Tuesday night, when both Najib and Mahathir made a live-broadcast speech on television or the Internet for their last appeals to the voters for support.
"If BN were given a new mandate, we will make Malaysia even greater," said Najib, adding "BN is the party of the future, BN is the party for the future."
The BN has won every election since the country's independence in 1957.
Mahathir said in his speech that Malaysia is faced with many problems that only could be solved with the change of a government.
A final poll before the election, released by opinion research firm Merdeka Center, forecast that the BN will prevail in the election, but with the popular vote collecting from Peninsular Malaysia dropping to 37.3 percent from last week's 40.3 percent.
The election commission said final results could be unveiled on Wednesday night. A simple majority of 112 parliament seats will produce a winner.