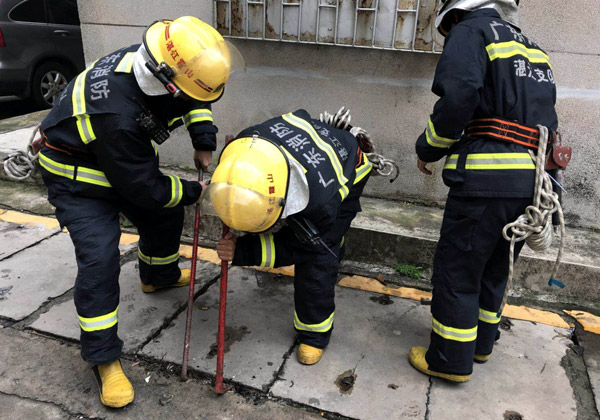 Firefighters dig into a tunnel covered by concrete slabs in Zhanjiang, Guangdong province, to rescue a cat. (Photo/CHINA DAILY BY XIASHAN FIRE BRIGADE ONLINE)
A stray cat that was trapped underground in a 50-meter-long cable tunnel in Zhanjiang, Guangdong province, for five years is believed to have finally escaped through a gap made in a concrete slab.
Ah Ying, a cat enthusiast, visited the site on Sunday and Monday and did not see the creature in the tunnel.
"It must have come out," she said.
Firefighters visited the site on May 1 after learning that the animal was stuck in the tunnel.
Nearby residents said the cat was probably trapped when construction workers sealed the tunnel with heavy concrete slabs five years ago. Locals have been feeding the feline ever since by dropping food scraps through the narrow gaps between the slabs.