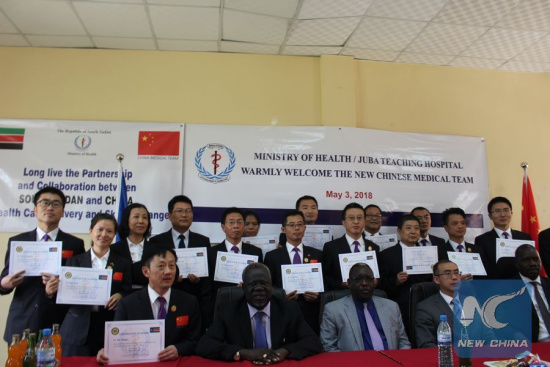 Members of the China medical team in South Sudan pose for a group photo during a certificate awarding ceremony in Juba, capital of South Sudan, May 4, 2018. (Xinhua/Gale Julius)
The South Sudanese government has honored the fifth batch of Chinese doctors for their contributions to the health sector of the east African nation.
All 15 members of the China medical team in South Sudan were presented certificates of honor during an occasion last week officiated by senior South Sudanese government officials and Chinese embassy officials.
Martin Lumoro, Acting Foreign Minister, said the departing Chinese doctors have contributed greatly to South Sudan's health sector in the past one year, adding that their services will be greatly missed by the people of South Sudan.
Lumoro also hailed Beijing's continued political and humanitarian support to the world's youngest nation.
"We benefit a lot from China in many fields, but in this particular field of health sector, China is the only country helping us. Others (countries) are running away from South Sudan, but China is coming to help. We cannot forget this kind of assistance to the people of South Sudan," Lumoro said.
Health Minister Riek Gai Kok said the medical team improved delivery of medical services across South Sudan amid harsh working conditions such as lack of medical equipment, poor roads and insecurity.
He said the Chinese doctors performed several surgeries in at least five towns across South Sudan and that has rescued the people from seeking medical care in foreign countries.
"We are very happy for the excellent work that you have done across South Sudan. With this cooperation, we can consolidate the true friendship between the people and governments of South Sudan and China," Kok said.
Liu Xiaodong, the Charge d' Affaires at the Chinese Embassy, said that since 2013, China has been sending medical teams to South Sudan and they have defied the harsh working conditions to deliver health services to remote parts of the country.