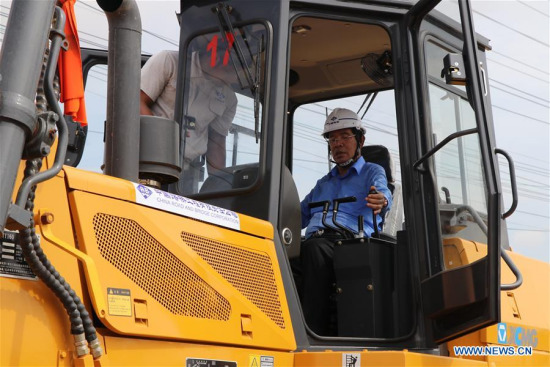 Cambodian Prime Minister Samdech Techo Hun Sen (R) operates a bulldozer during the groundbreaking ceremony in Phnom Penh, Cambodia, on May 7, 2018. (Xinhua/Mao Pengfei)
Cambodia on Monday broke ground for the improvement and enlargement of the 134.8-km National Road No. 3 from Phnom Penh suburb to Kampot province.
The road will be improved and broadened from the current 7-meter width to 24.5 meters for the first half of the road and to 12 meters for the second half, and it is estimated to cost 215 million U.S. dollars, the preferential buyer's credit loan from the government of China.
Cambodian Prime Minister Samdech Techo Hun Sen and Chinese Ambassador to Cambodia Xiong Bo presided over the groundbreaking ceremony here, which was attended by some 10,000 people.
Hun Sen said that work on the project would begin from southwestern Phnom Penh suburb to the southwestern coast of Kampot province through Kandal, Kampong Speu, and Takeo provinces, and that the road improvement and enlargement were to cope with the rising flows of traffic.
"Besides a tourist province, Kampot is an economic corridor that connects Cambodia's economic activities with other countries," he said. "Kampot is the only province that produces salt for Cambodia, so National Road No. 3 plays a very important role in distributing salt from Kampot to other cities and provinces."
The prime minister extended his profound thanks to the government and people of China for providing the concessional loan to Cambodia for the road.
He said China had always positively responded to Cambodia's proposals and to date, thousands of kilometers of roads had already been built with Chinese aid, as several other roads were under construction.
Xiong said National Road No. 3 is an economic road for Cambodia because Kampot province is rich in agriculture and tourism resources and is a key base for cement production, and the province also has huge potential for the development of deepwater ports and industrial zones.
"I believe that the improvement and enlargement of National Road No. 3 will play a very important role in promoting socio-economic development for provinces along this road," he said.