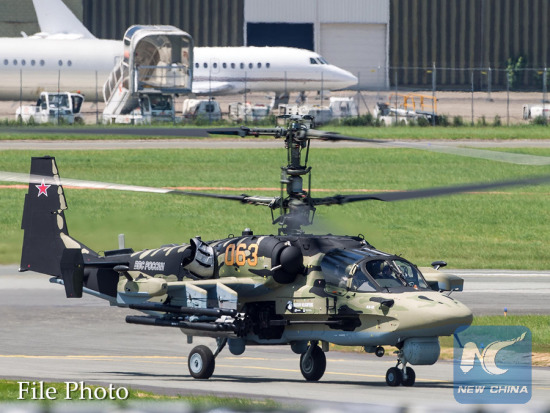 A Russian Ka-52 military helicopter participates in a flying display during the 50th International Paris Air Show at the Le Bourget airport in Paris, France, June 18, 2013. (Xinhua/Chen Cheng)
A Russian Ka-52 attack helicopter has crashed in eastern Syria, killing both pilots on board, the Russian Defense Ministry said Monday.
The helicopter crashed during a scheduled flight over Syria's eastern regions, the ministry was quoted as saying in a statement by Sputnik news agency.
Preliminary information shows that the helicopter could have experienced a technical malfunction before the crash, the statement said.
Earlier this month, a Russian Su-30SM fighter crashed over the Mediterranean Sea off the western coast of Syria.