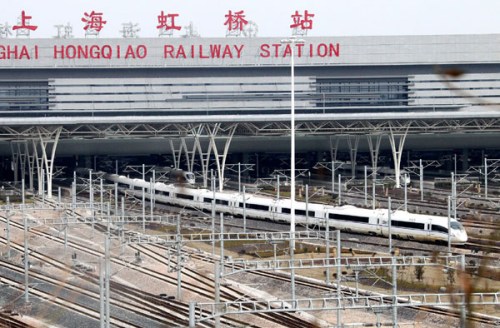 A high speed train leaves Shanghai Hongqiao railway station for a test run in Shanghai, Feb. 20, 2011. (File photo/Xinhua)
Passenger convenience, proximity to city centers cited as advantages
New high-speed railway stations should be chosen with passenger convenience in mind and should be of reasonable scale and close to the city center, according to a note released on Monday on the National Development and Reform Commission's website.
The note said that the rapid development of China's high-speed railway system has boosted the economy in urban and rural areas.
However, it added that China is still in the initial stages of planning its high-speed rail network, and some stations were designed with simple functions and poor supporting infrastructure.
Together with three other departments-the Ministry of Housing and Urban-Rural Development, the Ministry of Natural Resources and China Railway Corp-the commission said, new stations will be planned with a people-oriented approach.
"Station sites should be part of a city's construction plan, meet technology standards and serve local social and economic development," the note said.
"New high-speed railway lines should avoid dividing a city, and stations are encouraged to be located in or near city centers for the convenience of passengers," it said.
To avoid wasting land, the note suggested, new stations should better utilize underground and aboveground spaces.
A single station should cover less than 50 hectares, and stations that shoulder multiple functions should be no larger than 100 hectares.
Public services near high-speed railway stations should be provided, including health services, education, entertainment and sports. Moreover, connecting stations and downtown areas should be well planned.
Chang Ning, 32, a high school teacher in Beijing, said high-speed railways have operated in her hometown-Yangquan, Shanxi province-since 2009, but the station is 45 kilometers from the city center and a one-way trip takes nearly an hour by bus.
While many netizens were supportive of the note, some also questioned how the guidelines could be put into reality.
"As the price of land has soared dramatically in recent years, building a railway station in or near a city center will come with huge financial costs. And noise will be another problem," said Wu Xiang, an architect in Chengdu, Sichuan province.
Data from China Railway Corp show that 127,000 kilometers of railways were in operation in the country as of the end of last year. Of the total, 25,000 km were high-speed lines.
Last year, three researchers released a paper on the influence of site selection for high-speed railway stations on travel efficiency. They surveyed 38 high-speed railway stations along the Beijing-Shanghai line and Wuhan-Guangzhou line and found that the average distance between those stations and city centers was 14.1 km.
The research paper said some stations were built in outer suburbs to save on land costs and to bring more vitality to the local economy.