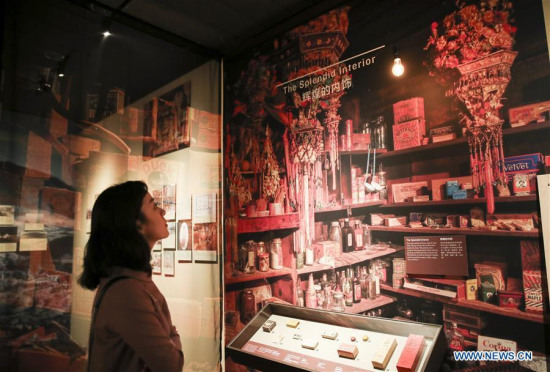 A journalist looks at exhibits during the press preview of Chinese Medicine in America: Converging Ideas, People and Practices and On the Shelves of Kam Wah Chung & Co. in the Museum of Chinese in America in New York, the United States, April 25, 2018. (Xinhua/Wang Ying)
GLIMPSE INTO EARLY CHINESE IMMIGRANTS LIFE
Ing Hay, better known as Doc Hay, was the first documented acupuncturists and herbalists in the United States. Hay did "ku li" (a Chinese term meaning "muscle strength") work in the Walla Walla area before he moved to the mining town John Day, eastern Oregon, in 1887.
Hay met his life-long friend and business partner Lung On on the streets of John Day, a small town nestled in the higher elevations of the Blue Mountain range. They purchased the Kam Wah Chung & Company (literally, the "Golden Flower of Prosperity") building, which soon became the center of the Chinese immigrant community in John Day.
The number of Chinese in John Day at that time might have exceeded 2000 - mostly men - making it the third largest Chinatown in the United Sates then. It was a time the Chinese were openly treated as second-class citizens. As the railroads were built and the need for cheap muscle began to fade, the U.S. government slammed the door and started encouraging Chinese to leave.
By 1900, less than 100 Chinese remained. Patrons at Kam Wah Chung shifted from predominantly Chinese to mostly non-Chinese. Despite the prevailing anti-Chinese sentiment in the United States, the store not only survived, but flourished. This was due to the remarkable skills of its two proprietors.
Hay and On were both arrested several times for practising medicine without a license but due to their popularity in the community, each case brought against them was dismissed. All their patients survived the fatal Spanish Flu epidemic in 1919, according to an interesting side note.