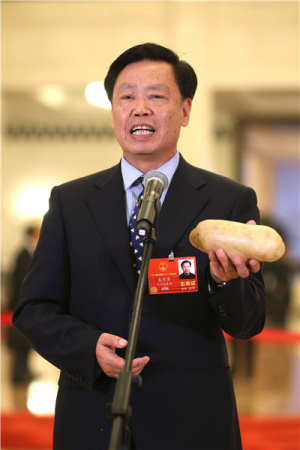 Zhu Youyong, chairman of the Yunnan Association of Science and Technology, NPC deputy
NPC deputy from Yunnan helps lift countless farmers from poverty
In a side corridor of the Great Hall of the People in Beijing, a long red carpet is the hall's most bustling venue during the two sessions, with hundreds of journalists holding lights, cameras and voice recorders as they jostle to secure strategic positions at group interviews.[Special coverage]
Apart from high-level government officials, this year's red carpet also featured deputies to the National People's Congress and members of the National Committee of the Chinese People's Political Consultative Conference.
Each speaker is allotted a couple of minutes or so - a precious period that must be used for only the most pertinent of issues for the featured member or deputy.
NPC deputy Zhu Youyong, chairman of the Yunnan Association of Science and Technology, carried along a big potato during his two minutes of fame under the bright lights.
"Farmers in China's poverty-stricken areas can rely on agricultural science to strive for a well-off life," said the 63-year-old plant pathologist, who has been researching agricultural biodiversity and its role in controlling plant diseases for decades.
As an academician of the Chinese Academy of Engineering, Zhu is nicknamed "potato scholar" by residents in Haozhiba village, Lancang Lahu autonomous county in Yunnan province.
Born into a family of farmers in Yunnan, Zhu said he has a "sentimental attachment" with the land. After entering Yunnan Agricultural University at the age of 19, he has been researching ways to reduce crop diseases for decades.
Since 2016, Zhu's team has promoted agricultural sciences in impoverished rural areas, and he is seeing the efforts provide substantial benefits to local farmers.
When asked by journalists to comment on the role science plays in the country's poverty alleviation efforts, he offered an example of the benefits of planting late-season potatoes in Lancang.
As a State-level poverty-stricken county, local government statistics show that about 139,000 people of Lancang's population of 497,000 are still living below the poverty line, or well over 25 percent of the total.
Zhu said farmers in the area only plant rice once a year. After the harvest, they halt planting and the paddies stay idle for the entire winter. In 2016, his team launched a pilot program to promote plantation of a late-season potato crop.
Success soon arrived, with about 3.1 metric tons of large potatoes harvested in a field covering just 0.07 hectare, which brought revenue to farmers of about 9,000 yuan ($1,420).
"Many people in my village signed up for Zhu's training class, which is supported by the local government and is free of charge," said Li Kehua, a farmer in Haozhiba. Li's family has four members, but only took in about 10,000 yuan per year due to a lack of agricultural technology support.
In Lancang, Zhu's team has a slogan - "100 days, one mu (0.07 hectare) of farmland and 10,000 yuan annual income". The project attracted many local farmers, and the first group of 63 farmers, including Li, were trained in potato planting techniques last year.
In 2017, Zhu expanded cultivation to more than 133 hectares in several villages in the county, benefiting more than 1,000 families. He said the cultivated area will continue to expand to 2,000 to 3,000 hectares over the next two years.
"We have set a specific goal of helping every impoverished farmer in the county earn 10,000 yuan out of each mu of farmland cultivated each winter, so as to lift farmers out of poverty," Zhu said.
In the past three decades, Zhu's team has also promoted its agricultural technology and helped more than 100 million farmers nationwide.
Through their agricultural biodiversity control methods, pesticide use in fields was reduced by 60 percent and production jumped by 20 to 30 percent.
Zhu's talents have been recognized by universities both at home and abroad. In 1996, he turned down an invitation from the University of Sydney and came back to China from Australia. In 2011, he quit his position as president of Yunnan Agricultural University and chose to literally study "in the field" to avoid what he considered to be the distraction of administrative work.
"Ultimately, I am a farmer. Going back to the fields and seeing how my research changed the lives of farmers in China is the most fulfilling thing to me," he said.