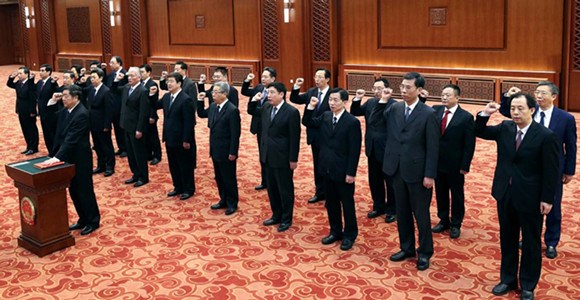 He Lifeng, head of the National Development and Reform Commission, leads newly appointed ministers, commission heads, the governor of the People's Bank of China and the auditor-general of the National Audit Office in an oath to uphold the Constitution, on the sidelines of the 13th National People's Congress in Beijing on Monday. (Photo by Pang Xinglei/Xinhua)
Expert says Cabinet shows 'sense of continuity', 'guarantees stability'
New faces are seen in the lineup of the State Council after nearly 3,000 national legislators voted on the Cabinet nominations submitted by Premier Li Keqiang on Monday. [Special coverage]
Wei Fenghe, 64, was endorsed as the new defense minister to replace Chang Wanquan, 69.
Wei was formerly head of the PLA Rocket Force, whose predecessor was the PLA Second Artillery Corps, which manages the country's strategic missiles.
On Monday he was also endorsed as one of the five State councilors.
For the Ministry of Veterans Affairs, one of the new departments established amid this year's government reshuffle, Sun Shaocheng, former vice-minister of land and resources, was endorsed as its head.
Sun, 57, had worked at the Ministry of Civil Affairs from 1984 to 2012, before he was moved to work in Shandong and Shanxi provinces, and later the Ministry of Land and Resources.
During the 28 years at the ministry, he had worked for 10 years in the ministry's department specializing in veteran-related affairs, which is believed to make him an ideal choice for the new post.
Another new ministry established this year-the Ministry of Natural Resources-is set to be headed by Lu Hao, former governor of Heilongjiang province.
The 51-year-old Lu was vice-mayor of Beijing and first secretary of the Central Committee of the Communist Youth League of China before he was moved to work in Heilongjiang in 2013.
The new ministerial lineup also included the naming of Fu Zhenghua as minister of justice, and Zhang Jinan as minister of human resources and social security.
Fu, 63, former vice-minister of public security, replaced Zhang Jun, who was elected procurator-general of the Supreme People's Procuratorate on Sunday.
Zhang Jinan, 61, had worked as deputy head of the Organization Department of the Communist Party of China and later as head of the State Commission Office for Public Sector Reform, which sets staff quotas for government units in accordance with their workload.
Some of the new ministers have served as vice-minister in the same departments for years.
For example, Wang Zhigang, 60, was elevated to minister of science and technology to replace Wan Gang after being vice-minister of science and technology since 2011; and Ma Xiaowei, 58, was promoted to be minister of the national health commission to replace Li Bin after becoming vice-minister of health since 2001.
Xue Lan, dean of the School of Public Policy and Management at Tsinghua University, said the nominations for the new ministers showed "a sense of continuity".
"Most of the new ministers had worked in the sector before. This not only makes sure they are professional, but also guarantees the stability of policies," he said.