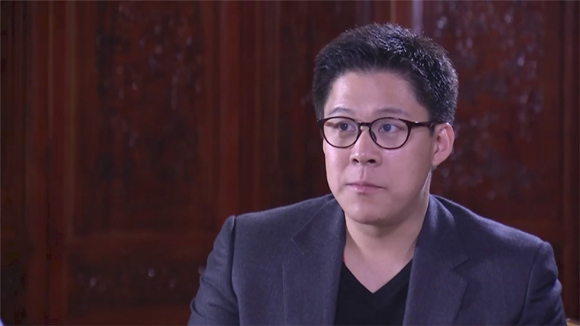 (Photo/Video screenshot from CGTN)
It was a proud moment for Kenneth Fok Kai-kong, vice-president of Fok Ying Tung Group, when he became a new member of the Chinese People's Political Consultative Conference (CPPCC).[Special coverage]
He said the experience of being a CPPCC member in the Tianjin committee in the past 10 years has offered him the knowledge about how to serve in the country's top political advisory body, yet the chance to become a member of CPPCC's national committee has been an eye opener to him.
"It's a different experience being a national (committee) member, because what you see and the discussions you engage in are on a much higher level, you are no longer just talking about the development of a certain area, we are talking about the whole country."
The Chinese government is pushing forward a plan to make the Guangdong-Hong Kong-Macao Greater Bay Area into the world's largest bay area in terms of GDP by 2030.
The region - a cluster of metropolises in China's south - is expected to become new highlight of China's economy and major growth engine.
Fok said that this plan is not just a district or regional policy, but a national strategic move that will bring vast opportunities to Hong Kong.
"Hong Kong is a small city, with only 7 million people. When we talk about the Bay Area, we are talking about a population of 60 million. The market potential, the economic potential is huge. It's important for us to realize the potential. To realize the potential, you need to know more about not just the polices, but experience the business dynamics. Within this framework, find your expertise or your area to contribute. "
When asked about the role of Hong Kong's young people in the building of the Great Bay Area, Fok said it's important for the young people in Hong Kong to explore opportunities within this framework. Meanwhile, it's key for the government to convey their message in a way that is easy for the generation to grasp and resonate with.
"It's important for young people to have the right mind-set about the Bay Area. Let's not just think of Hong Kong, but let's think we are all from the Bay Area. If you can change that mind-set, I think automatically you open up yourself to a lot of the opportunities. At the same time, young people should have the courage to step out of their comfort zone, and to explore. It's also important for us to talk more about it, and make them understand in their language that how could this plan benefit them. "
Coming from a family who has made lasting contributions to sports events including Olympics, Kenneth Fok said sporting events are good leverage points to enhance communication between Hong Kong and the Chinese mainland among young people.
"Using this (the Great Bay plan) to promote more sports events, lets the world know the bay area is here, and then using sports events to pull people together. Sports have been used to achieve many goals, as we all know, in diplomacy etc. 2008 Olympic Games is a good way to show China's rise, and serves often a large role than the competition itself.