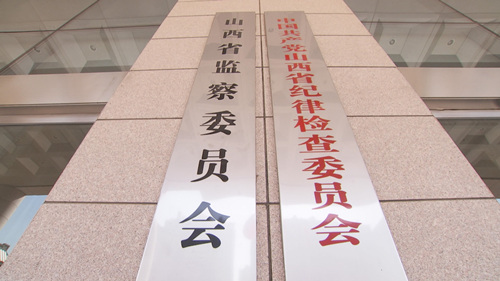 Shanxi set up the first provincial supervision committee in China. /CGTN Photo
China's Supervision Law will soon take effect. Legislation of the supervisory reform has been topping the agendas of the ongoing Two Sessions in Beijing. The National Supervision Commission will soon be set up to complete a nation-wide supervisory network, all in a bid to strengthen the Party's unified leadership in the fight against corruption.[Special coverage]
North China's Shanxi Province was one of three places selected for the supervisory reform pilot. In January 2017, Shanxi set up the first provincial supervision commission in China. It shares its office and staff with Party discipline inspectors, and incorporates with existing anti-graft governmental and procuratorate agencies.
The new office took its first case two weeks after its establishment. The case is on Guo Hai, former party secretary and chairman of a local state-owned coal group in Shanxi, who not only violated the Party discipline but also committed the crime of power abuses.
The case had lasted three years before it was taken on and wrapped up by the Shanxi provincial supervision commission in just four months.
In July last year, Guo Hai was sentenced 13 years in prison due to bribery of 16 million yuan and misconduct in office.
Zhou Yuewu, Director of the 2nd investigation office of Shanxi Provincial Supervision Committee, had been following the case of Guo Hai, and was impressed by the high efficiency of the new office.
"Guo Hai violated both Party discipline and the law. So his case had to be handled by different offices, which led to inefficiency and made it last for years. After the setup of the new office, it only took us eighty days to complete the investigation. The advantages of our integrated anti-corruption force really impressed me", Zhou said.
This case also adopted the new detention system which is introduced in the draft supervision law to replace the previous "Lianggui" or "Shuanggui" system, aiming to legalize the measures needed in investigations.
Zhao Wei, senior staff member of the case supervision management office of Shanxi Supervision Commission, said "using the system requires very strict approvals from both the Party Committee of the same level and a higher-level commission to prevent abuse. The system also has clear rules on notifying the family within 24 hours, and a three-month long detention limit."
Since the pilot began, new supervision commissions have also been set up at provincial, city and county levels across China. One big change with the new system is that not only Party members, but all personnel in public sectors will be in supervision.
In Shanxi, the new supervision system now covers around 1.3 million people in total with an increase of 530,000 people.
Ning Feng, Deputy Director of the 3rd supervision office of Shanxi Supervision Commission, said: "We've already handled some cases on the misconduct of some public personnel who are not Party members but practice public power. Many of them have expressed recognition and understanding of our work. And some also thanked us for preventing them from breaking regulations and laws."
Beijing, Shanxi and Zhejiang Provinces are the three pilot places of China's supervisory reform and their pilot experiences contributed to the draft supervision law. And its passage would lay the legal foundations for an upgraded anti-corruption campaign.
China believes the law will ensure an authoritative and efficient supervisory system, and also modernize the country's governance system and capabilities.