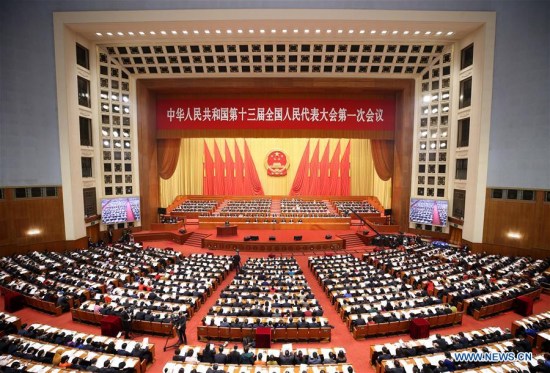 The fourth plenary meeting of the first session of the 13th National People's Congress (NPC) is held at the Great Hall of the People in Beijing, capital of China, March 13, 2018. (Xinhua/Yao Dawei)
A draft law that would establish a new supervisory network across China came under the microscope at the National People's Congress (NPC) on Tuesday.[Special coverage]
The proposed law, which would create a National Supervisory Commission, is part of significant institutional reform under deliberation at the first session of the 13th NPC.
Read more: China unveils cabinet restructuring plan
Also on Tuesday, the State Council submitted a draft plan that would result in a broad restructuring of the government.
What is the supervision law?
The proposed law would create national, provincial, city and county supervisory commissions, merge existing bodies and pool resources to create a centralized system.
The reform would unify the Communist Party of China (CPC) and state supervisory systems, and is designed to serve as a guiding law against corruption and for state supervision.
"The reform of China's supervisory system is aimed at enhancing the Party's unified leadership over anti-corruption campaigns and covering all state functionaries," Zhang Yesui, spokesperson for the first session of the 13th NPC, said at a press conference on March 4.
The bill would create new supervisory commissions to handle job-related crimes, independently exercising supervisory power, and not subject to interference from the government, social organizations and individuals, Xinhua reported.
The commissions would be entrusted to oversee state functionaries, investigate corruption cases such as bribery, embezzlement and abuse of power, impose administrative penalties on corrupt officials, and hand criminal cases over to prosecutors.
Key points
- Guiding law against corruption and for state supervision.
- Enhance Party leadership over corruption campaigns.
- Supervisory commissions at national, provincial, city and county levels.
- Legalize unified system between state supervision and Party disciplinary inspection.
- New commissions to share resources with Party disciplinary inspection agencies.
How did the pilot reforms work?
Pilot reforms of the supervisory system began in Beijing, Shanxi and Zhejiang in December 2016 and were expanded nationwide in November 2017.
The new supervisory commissions shared offices and staff with Party disciplinary inspectors, and incorporated existing supervisory, corruption prevention and control agencies within governments and procuratorates.
The first significant change after the establishment of supervisory commissions was an increase in the number of state functionaries under supervision, according to Xinhua.