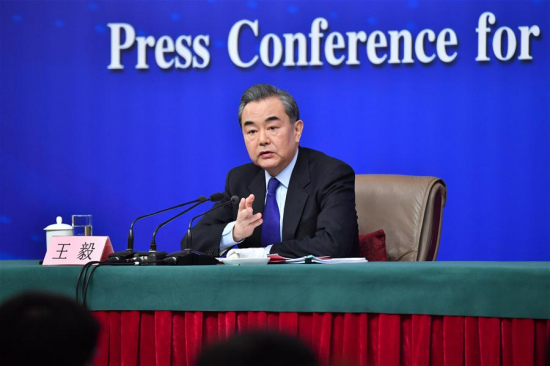 Chinese Foreign Minister Wang Yi answers questions on China's foreign policies and foreign relations at a press conference on the sidelines of the first session of the 13th National People's Congress in Beijing, capital of China, March 8, 2018. (Xinhua/Li Xin)
Chinese Foreign Minister Wang Yi met the press Thursday morning on the sidelines of the first session of the 13th National People's Congress.[Special coverage]
Wang briefed journalists from home and abroad on China's foreign policies and answered questions on a wide range of diplomatic issues.
The following are the highlights of this news conference.
Diplomatic agenda in 2018
First, Boao Forum for Asia annual conference will take place in Hainan this April, and focus on reform and opening-up.
Second, the Shanghai Cooperation Organization summit will take place in Qingdao this June, and focus on revitalizing the Shanghai Spirit.
Third, the Forum on China-Africa Cooperation summit will take place in Beijing this September, and focus on the Belt and Road Initiative.
Fourth, the First China International Import Expo will take place in Shanghai this November, and focus on further market opening.
Head-of-state diplomacy
President Xi's leadership and charisma has earned him and his country many good friends, among foreign leaders who represent a diverse range of cultures and social systems.
Belt and Road Initiative
Everything is in the open. There is no backroom deal, and every step is transparent. It would be high-standard and economically viable, beneficial to the world as well as to China.
China-U.S. relations
Despite elements of competition, China-U.S. ties are defined more by partnership, not rivalry. China has no need or intention to replace the United States' international role.
Trade war is never the right solution, as it will harm both the initiator as well as the target country in a globalized world. In the event of a trade war, China will make a justified and necessary response.
China-Russia relations
The China-Russia comprehensive strategic partnership of coordination is as stable as Mount Tai. "Sky is the limit" for bilateral cooperation. There is always room to make the relationship even better.
China-EU relations
China would always support European integration and had faith in Europe's future. China wants to partner with Europe to create a more stable world in what are uncertain times.
China-Japan relations
China is willing to work with Japan to restore the relationship to healthy and steady growth, as long as Japan "does not prevaricate, flip-flop or backpedal and instead accepts and welcomes China's development."
China-ASEAN relations
China will continue to put the cooperation with ASEAN high on its agenda of international cooperation this year. China looks to upgrade the strategic partnership and build a closer community of shared future with ASEAN.
China-India relations
The Chinese "dragon" and the Indian "elephant" must not fight but dance with each other. With political trust, not even the Himalayas can stop us from friendly exchanges. Without it, not even level land can bring us together.