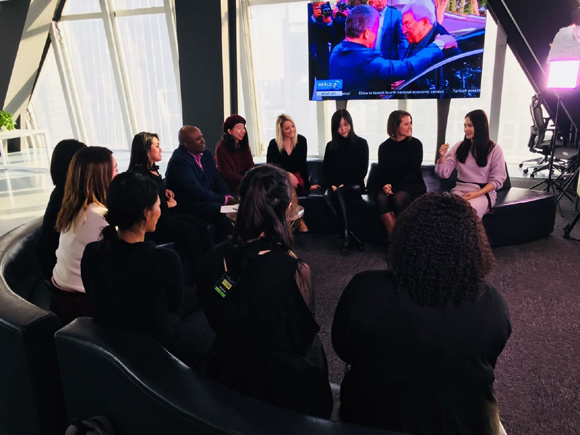 CGTN Digital Roundtable participants (Photo/CGTN Digital)
The one question singles were hoping to avoid when gathering with families across China during Spring Festival is, "When are you getting married?"
Fewer people in China are tying the knot. This trend is not only causing parents to worry but also causing government concerns.
"In a culture that puts great value on family, parents are alarmed by even the tiniest likelihood that their offspring will remain unmarried and childless," Xuan Li, assistant professor of psychology at NYU Shanghai, told CGTN Digital. "They fear the breaking of family lineage, or that there will be no one to look after their unmarried children when they're gone."
China's Communist Youth League, an organization of youths with progressive ideas under the leadership of the Communist Party of China, has encouraged young singles to participate in organized blind dates to find the right partner.
The Global Times newspaper reported that other government entities such as labor unions and women's federations have also tried to play Cupid in China.
According to the Ministry of Civil Affairs, China witnessed its second year of decline in the number of newly registered unions in 2015, marking a 6.3 percent drop from 2014 and 9.1 percent from 2013. This was accompanied by a rise in the average age at which people are getting married – up by about a year and a half in the first 10 years of this century.
Decline and delay
The decline and delay of marriage in China is part of a global trend. The US, most of Europe and Japan, are all experiencing similar trends, as are other major Chinese societies. Hong Kong and Taiwan, for instance, both have much higher ages of first marriage than the Chinese mainland.
"Why the numbers are down is anybody's guess but many recent studies speculate ever-increasing economic strain is a major factor," relationship coach Cullen Mattox said. "Time could reveal that young people are just as interested in marriage but are delaying it until they've accrued more mastery of their finances."
New York City-based Mattox and his wife, Elitia, are the founders of coaching and development services company WhenLoveWorks.
To get to the heart of the matter, CGTN Digital organized two roundtable discussions, one for males and one for females both comprised of Chinese and foreign singles.
Those gathered for the CGTN Digital Roundtables gave a very candid look at love and did not hold back.
"Girls, they have a lot of pressure to marry in all cultures but especially in this culture," Canadian-Chinese Jeff Wong, a Beijing-based filmmaker, said at the event. "And I feel like, for guys in China… you are looked down upon if you are a certain age and you haven't been married."
The other big pressure comes from the family, according to China-born Cui Yihui. Family always comes first in Eastern culture, she said. "And then when you are at the certain age, your family says, 'Oh, it's the age for you to be dating somebody. It's the age for you to get married.' If you are single at the age of 25, your family starts to worry. They want you to have a good life and have a good marriage."
"They don't think 23 is a very young age," Chinese national Xiaoxian Liu chimed in. "They actually think I should be in a relationship right now so that I can get married at the age of 25."
Since 2007 single women over the age of 27 in China have been unofficially termed "leftover women" or "sheng nu" in Chinese.
Leftover was one of 171 new Chinese terms included in the "Report on the Language Situation in China" published by the Ministry of Education, referring to single women at or beyond the socially-accepted marriageable age of around 27.